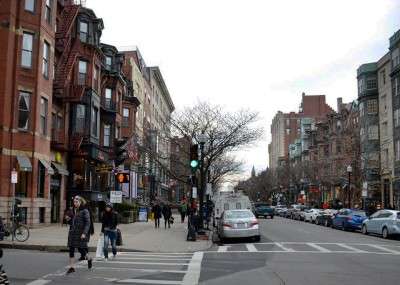 Restaurant Week Boston was discontinued in 2013 and rebranded by the Greater Boston Convention & Visitors Bureau to be called Dine Out Boston, with the purpose of regaining the program's original success in the aftermath of the economy's collapse and the birth of new deal options.
Restaurant Week Boston had run for about 13 years before it was rebranded, said Pamela Frechette, member and media relations coordinator at the Bureau. With the economic downturn and the influx of internet-based coupon services, such as Groupon and LivingSocial, the program struggled to stay afloat.
"We decided we needed to rebrand and that one size didn't fit all in terms of the restaurants and the price points," Frechette said. "So we developed a three-tier price point for lunch and dinner, the restaurant chooses the one that best reflects their operation. They can offer, ideally, a very exciting menu at the right price point and still make some money and get people in there."
Dine Out Boston gives restaurants more choices and more opportunities to be creative, Frechette said, as opposed to Restaurant Week, which dictated how many courses restaurants could offer (three) and how many choices were available for each course (three). Yet, the rebranded program's inaugural event did not heed results as promising as its predecessor once had, she said.
"Winter of 2010, we had a high of 229 restaurants [participate in Restaurant Week]," Frechette said. "We did have lower numbers in Dine Out. We were down to 178 this summer. Now, you have to bear in mind, the restaurant has to be a member of the Bureau to participate. And there are restaurants that aren't Bureau members."
The program, funded by the Greater Boston Convention & Visitors Bureau, also pays for advertisements for Dine Out. Frechette said the required membership has not stopped other restaurants that are not part of the Bureau to host their own alternative deals during the time of Dine Out.
"There are renegade restaurants that put out another prefixed menu and call it the faux-dine out Boston or whatever they do," she said. "You can't stop them from doing that. We spend a significant amount on advertising and social media, so it's for our members."
Frechette said Dine Out Boston provides diners with good deals on high-quality meals and gives restaurants the opportunity to showcase their culinary ability and attractive atmosphere, which provides new and more long-term business.
"Ideally, if the consumers' experience is good, they'll go back and pay full price," she said. "The Dine Out Boston menu reflects what the restaurant cuisine is like. We deliberately run the program in these weeks in March and August when the city is very slow. I've had restaurants that said they would've had to lay-off staff if it wasn't for Restaurant Week a la Dine Out Boston."
The March 2015 program runs for 13 days, March 1 to 6 and 8 to 13 with the option of following a regular dining schedule and plan on Saturday, with the added incentive for some credit card holders rewarded for spending during Dine Out. The August 2015 dates have not been announced yet, but the August 2014 dates were August 17 to 22 and 24 to 29.
Upon spending $21 or more, American Express Card members will be eligible to receive a $5 credit on their enrolled American Express credit card, according to Dine Out Boston's frequently asked questions.
Several residents said the new three-tier pricing offered by Dine Out Boston allows for restaurants to be more creative with their menu.
"I definitely agree that making it more accessible is a good thing," said Alejandro Aguirre, 23, of Allston. "I've done it [Restaurant Week Boston] maybe once or twice, and it has been usually at a more upscale place. Having it being managed less by a larger body and more being left to the restaurants themselves, I definitely think it's better, but usually in those cases, it can vary."
Thalia Blanco, 21, of Roslindale, said she often dines out and she looks forward to using more comprehensible menus.
"I go out a lot anyways, so if it's cheaper, it's better for me," she said. "Most of the time, I do have trouble figuring out the menus, figuring out the times, because I'm a late person, so if they make that accessible, I can be more prepared for where I want to go and why I want to go there."
Paige Smith and J.D. Capelouto also contributed to the reporting of this article.