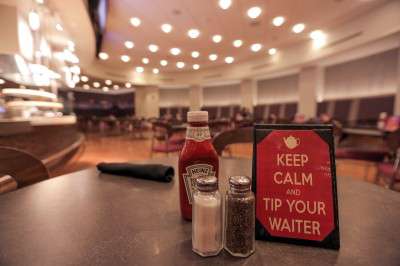 In an effort to mirror operations of traditional restaurants, Late Night Kitchen at the Yawkey Center for Student Services at 100 Bay State Road will fully implement a tipping system for its employees by the spring semester, according to Boston University Dining Services.
BU Dining will pay servers a tipped employee rate of $2.63 per hour, which is the state minimum wage for tipped employees, and if they do not receive at least $9.25 per hour with tips included, BU Dining will pay the difference, said Scott Rosario, marketing director for BU Dining Services.
"This style of service and wages is typical of the restaurant industry. Through this system, servers are incentivized to provide a high level of service," he said in an email. "Our goal is to provide excellent experiences for our guests, and these changes will help impact the areas that need improvement. We are planning to implement these changes with the start of the spring semester."
Without tips, student servers make $9.25 per hour, one of the highest paid options for student employment at BU, which is $1.25 more than the state minimum wage at $8, Rosario said.
While the tipping system is planned to officially launch next semester, elements of the program have already been implemented, according to a former Late Night Kitchen server who asked not to be named. At the restaurant, signs reading, "Keep calm and tip your waiter" adorn the tables and booths in the basement restaurant.
The student said the tipping program was intended to begin this semester, and there have been rumors that the delay in the implementation is due to a sudden influx of workers who quit due to the changes. Because the transition hasn't been completed, workers are currently making "full wage," in addition to tips, the former server added.
Hannah Freeman , a junior in the College of Arts and Sciences and a long-time server at Late Night Kitchen, said she has seen the restaurant go through many different stages and she has no problem with the new tipping system.
"If you really suck at getting tips, they [BU Dining] have to make sure that you get [the minimum], so if you are short on tips, you still get paid, but if you get more than that, you get whatever you make," she said. "I'm confident in my skills as a server, and I probably make more money now than I did before."
According to student survey results and feedback from meeting with students, the speed of service and timely handling of the check are areas that need improvement at Late Night Kitchen, Rosario said.
Several students said they had mixed views about tipping at an on-campus restaurant.
Davis Barek , a sophomore in the College of General Studies with restaurant serving experience, said he supports tipping at Late Night Kitchen because tipping tends to help the employees out.
"Tipping is in place in order to provide good service," he said. "This is fair because being a server can be a really stressful job. Servers would have to deal with more tables than they could possibly give their best service to, and everyone would receive poor quality service."
Barek said the change to the tipping system might be a way to save money for employers.
"With the cost of food, kitchen help and other overhead expenses, the profits are small, and employers will try to save as much money as they can," he said. "For this reason, I think tipping is at…Late Night [because] they [BU Dining] have a budget that they have to work with."
Victoria D, a junior in the College of Communication, said she feels it is unreasonable to expect college students to tip, especially on campus.
"I'm an international student, and where I live, tipping isn't a thing. It's completely voluntary, and people don't think less of you if you don't leave extra money behind," she said. "I'd rather be paid like a standard employee because when you work for tips, you depend on the generosity of another person, and that's too volatile."
Felicia Gans contributed to the reporting of this story.