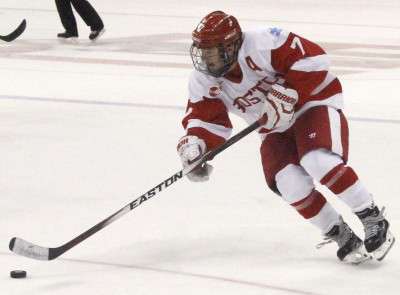 HARTFORD, Connecticut — Head coach David Quinn might have summed it up best when he discussed the struggles of his team on the man advantage back on Oct. 24.
"I don't like our power play. I don't like our look. … We're a work-in-progress on the power play," Quinn said after the Terriers' 1-0 victory over Michigan State University.
"We're still trying to figure out who should go where, and that's part of the problem."
While the No. 2/3 Boston University men's hockey team opened up the 2014-15 campaign on an impressive note, averaging 3.71 goals per game over its first seven contests, the Terriers (8-1-1, 6-1-1 Hockey East) had little to boast on the man advantage, converting on just two of 18 power-play opportunities.
However, facing off against the University of Connecticut on Saturday afternoon at XL Center, BU finally broke through, notching two power-play goals en route to a 5-2 win over the Huskies (3-6-4, 2-3-1 Hockey East) and a four-point weekend against Hockey East opponents.
Since registering a power-play score in the second period of their game against the University of Maine on Nov. 14, the Terriers have found the back of the net four times over its three games when armed with the extra attack – totaling out a 28.5 percent success rate on the man advantage during that stretch of play.
"Opportunistic is a word I would use. … But anytime you get two goals early, set the tone early, get a two-goal lead, the game kind of changed a little," Quinn said. "They have to take a few more chances probably than they want to. We can be a little more simplistic. But I thought we moved around pretty well and obviously got pucks to the net."
BU's extra-man unit first made its mark on the box score after UConn defenseman Johnny Austin was called for a hooking penalty at 7:04. Just over 20 seconds into the power play, freshman forward Jack Eichel fired a wrist shot from the right circle that bounced off the pads of UConn goalie Rob Nichols and towards junior forward Ahti Oksanen, who was camped out in the low slot.
The Finnish import pounced on the loose puck and sent into uncovered left side of the net to put the Terriers up 1-0 at 7:28. It was Oksanen's third power-play goal of the year, accounting for half of the team's total scores on the extra attack.
"We've been practicing it now and it appears to get better every time — week after week," Oksanen said. "I feel like we can get even more results but its good that we're starting to get power-play goals now finally."
The Terrier added to their lead by way of the power play later in the second period after forward Kasperi Ojantakanen was sent to the sin bin due to another hooking penalty.
With just 17 seconds remaining on BU's special-teams advantage, freshman defenseman Brandon Hickey ripped a slap shot from the left point that careened towards Nichols. The puck was deflected off the stick off senior assistant captain Cason Hohmann and into the Huskies' net to make it a 2-0 game at 4:11.
BU would finish the game 2-of-6 on the power play, but generated chances throughout, as Hickey almost secured his first collegiate goal during BU's final extra-attack bid halfway through the third period.
While he acknowledged that BU's numbers on special teams earlier this season didn't fully tell the while story, Hohmann added that he has been encouraged by the Terriers' progress on the power play this year.
We haven't been struggling, we just haven't been scoring our last couple of games," Hohmann said. "I think finally, all of our hard work and our good passing plays paid off today. We had a couple of good chances. We could have scored more, but the goalie played great.
"I think everything is starting to click right now."