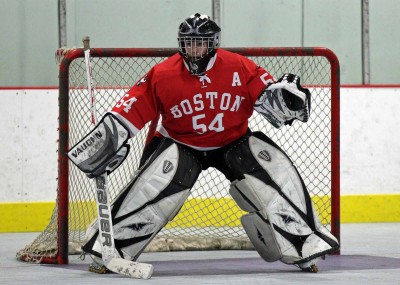 The information in the following Boston University club sport highlights was taken from the BU Club Sports Event Calendar from Nov. 20 to Nov. 24.
Thursday, Nov. 20
BU men's club squash falls to Northeastern 8-1, women's side earns 7-2 victory
The BU club squash team faced crosstown rival Northeastern University for the first time this semester. The men's team earned one victory in the fifth set of the match thanks to Arthur Hobhouse, while the women's squad, facing the Huskies for the first time ever, beat Northeastern handily by a 7-2 decision.
Saturday, Nov. 22
BU men's club ice hockey loses tight 4-3 tilt with Northeastern
Despite having a two-goal lead late in the third period, the BU men's club ice hockey team was unable to pull off the win against Northeastern Saturday night. The Huskies strung together a comeback that featured a power-play goal with six seconds left on the clock. Junior forward Scott Woods scored an impressive goal for BU, while freshman forward Michael Matos and junior forward Mike Gates added tallies for the Terriers as well.
BU men's volleyball participates in Winter Invitational Tournament
The BU men's volleyball team hosted its 10th annual Winter Invitational Tournament over the weekend at the Fitness and Recreation Center. The Terriers had both an "A" and a "B" team playing in the tournament, as well as two alumni teams. Despite strong starts from both BU "A," who ended the first day with a 5-1 record, and BU "B," who finished Saturday 3-3, the Terriers were slated to play in their respective silver medal brackets, but bumped from the tournament after each team dropped vital games on Sunday.
BU club inline hockey goes 2-1 in weekend tournament
The BU club inline hockey team traveled to Pennsylvania over the weekend for a three-game tournament. The Terriers took on Villanova University early Saturday morning and came away with a 4-3 win after scoring three goals in under one minute late in the first period. Later in the day, BU faced St. Joseph's University, with the Terriers beating the Hawks, 5-3, after an explosive three-goal third period. For their last game of the day and final match of the tournament, Farmingdale State College defeated the Terriers, 7-2. Five first period goals for the Rams set BU back, and the Terriers were able to get two quick goals in the third period, but it was not enough to sweep the tournament.