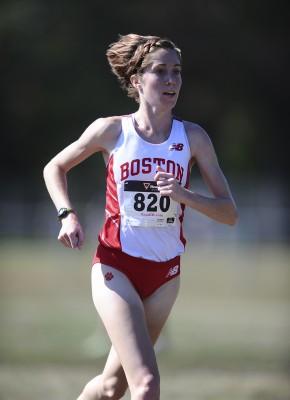 An impressive collegiate cross country career came to an end this weekend, as senior Rosa Moriello of the Boston University women's cross country team competed at the 2014 Division I NCAA Women's Cross Country Championship in Terre Haute, Indiana Saturday.
The 6-kilometer race was the last for Moriello — the reigning Patriot League Runner of the Year — as she crossed the finish line with a time of 21:07.8, placing her in 87th place out of more than 250 participants.
Michigan State University won the meet, beating the runner-up team, Iowa State University, by 62 points.
"Rosa ran with a lot of heart and determination in Saturday's race," said BU coach Bruce Lehane. "She was not having a great day, for her, but she fought to do her best every step of the way, and finished in the top third of the field at the championships. She certainly showed that she ranks high in the sport of cross country on a national basis. I am very proud of how she competed and what she has accomplished."
Moriello has a list of accolades she has earned in the past four years, including being named to the All-Region team three times, and winning individual Patriot League Championships the past two years. She was also named the U.S. Track & Field and Cross Country Coaches Association National Athlete of the Week as a junior.
Lehane said Moriello has done a lot for the team during her BU career.
"Rosa has been a tremendous positive force on our teams throughout her career," he said. "She has numerous athletic accomplishments to her credit, including multiple conference victories and twice qualifying for the NCAA Championships. She has been our top cross-country runner for the past two years.
"But beyond her athletic accomplishments, she has contributed to the team in so many other ways, playing a key leadership role both on and off the field. She demonstrates on a daily basis that one can excel in athletics, while being a strong student, a forceful leader, a good friend and a person who is fun to be around."
Moriello will compete in indoor and outdoor track and field for the Terriers, who are looking for a second Patriot League title.