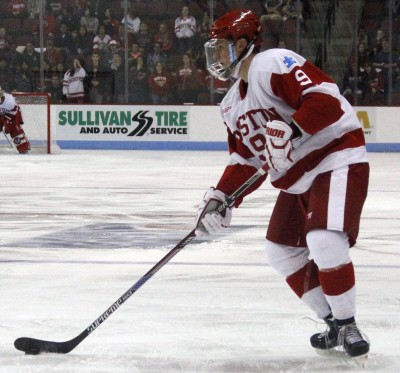 For the first time in four years, the Boston University men's hockey team stands alone on top of the collegiate hockey upper echelon — earning the No. 1 spot in both national polls.
Just don't tell any of that to Terrier coach David Quinn.
For the BU leader, the ascension of the Terriers (8-1-1, 6-1-1 Hockey East) up the national rankings stands as an impressive testament to a strong foray into the 2014-15 season, but it's on his team to keep its five-game unbeaten streak afloat Tuesday night, when BU will host No. 18 Harvard University at Agganis Arena.
"It means that we're off to a good start. I feel good about our record, which obviously, other people do too," Quinn said. "That's really all that it means. I'm excited about our start, but I still think our best hockey is ahead of us.
"There are a lot of areas that we need to improve on, and we've played 10 games, and we're probably 15 plays away from being 4-5 or 4-6, so we never lose sight of that, neither do our players, but like I said, it means that we're off to a good start."
The Terriers are coming off an impressive four-point weekend that saw BU trump the University of Maine in overtime Friday, 3-2, while later defeating the University of Connecticut by a score of 5-2 Saturday afternoon in Hartford, Connecticut.
Freshman forward Jack Eichel came up big for the Terriers with four points over the weekend en route to his first Hockey East Player of the Week accolade. The highly touted center leads the country in points (19), points per game (1.90) and plus-minus (plus-15 ) while also notching six multi-point showings in 10 games this season.
Though BU's primary playmakers once again posted impressive stat lines against the Black Bears (3-9-1, 2-5-0 Hockey East) and Huskies (3-6-4, 2-3-1 Hockey East), the Terriers also received scoring from their other lines over the weekend with freshman forward A.J. Greer, sophomore forward Nick Roberto and freshman forward Chase Phelps all registering at least one point in the two games.
So far this season, 13 Terriers have recorded a goal, and only four skaters have yet to register a point. Through 10 games, BU, who scored 81 goals in 35 games last season, has found the back of the net 37 times.
"People ask me a lot about our top line doing a lot of scoring," Quinn said. "My response is, 'Show me a great team that doesn't have a top line. Every team has one.' We feel that we have more than a top line.
"We've got good players on all of our lines. Some guys are streaky, and one line will be more productive offensively than others. It was good over the weekend to get some production out of the lines, and I know that we're going to get production out of them."
The Terriers will be looking to bounce back after a disheartening showing against the Crimson (5-1-2) during the 2013-14 campaign — as Harvard outscored BU by a 13-6 margin in two games.
Harvard boasts a multitude of lethal scorers in its roster, led by sophomore forward Alexander Kerfoot, who is second in the nation in points per game (1.62).
The Crimson have also received major contributions from defenseman Patrick McNally and forward Jimmy Vesey, who are both tied for 10th in the country in points per game at 1.38.
Tuesday's game should also feature an interesting showdown between the pipes, as junior goaltender Matt O'Connor and Harvard netminder Steve Michalek have both elevated their respective games to new levels this season. Michalek ranks fourth nationally in goals-against average (1.47) and fifth in save percentage (.951), while O'Connor places seventh in GAA (1.62) and eighth in save percentage (.943).
The last time Harvard faced off against a No. 1 opponent, the Crimson bested No. 1 Quinnipiac University in a 2-1-overtime contest on March 1, 2013.
"They're skilled, and we're going to have to be physical, and that doesn't mean irresponsible, running around, taking ourselves out of play to be physical," Quinn said of BU's Ivy League opponent. "It means, when the opportunity presents itself, to win you one-on-one battles. We're going to have to do that through all three zones for 60 minutes."
The Terriers' contest against Harvard makes up one of BU's toughest stretches of the 2014-15 season, as the team will play a total of five games in 10 days, culminating with a weekend set against Colgate University on Saturday and Dartmouth College on Sunday.
While the increased workload will provide a tough test for the Terriers, Quinn said his team must be ready to compete from the beginning to beat the Crimson.
"We've talked an awful lot, as a group, about being committed away from the rink, as well as us doing our job at the rink and making sure that we're managing the practices properly," he said. "Obviously, it was good to get up and out of UConn and not have to battle back in the third, but we still didn't get off to a great start. The first 10 minutes were sluggish, and we're going to have to be ready from the get-go against a very good Harvard team."