In a chippy, back-and-forth affair, the No. 1 Boston University men's hockey team downed No. 9 Colgate University, 5-2, at Agganis Arena on Saturday afternoon.
The tie-breaking goal came from senior assistant captain Evan Rodrigues 11:27 into the third period, when BU (9-2-1, 6-1-1 Hockey East) was on the power play. Rodrigues fired a one-timer from the slot, giving BU a 3-2 advantage over the Raiders (9-5-1).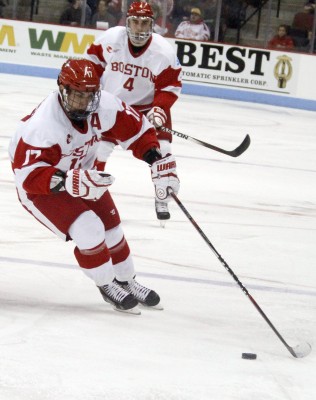 "We got a lot of movement on our power play, which is what we like to do," Rodrigues said. "I tried to find that open hole in the slot there, and just got it off my stick as quick as possible."
In the teams' first meeting since 1993, BU got off to a slow start — netting just six shots on goal in the opening frame — and paid the price. The Terriers surrendered a goal to Colgate forward Tyson Spink at the 4:20 mark of the first period, when Spink sent a backhanded shot over BU junior goaltender Matt O'Connor's shoulder to give the Raiders a 1-0 lead.
Freshman forward Chase Phelps tied the game up for BU, however, early in the second period with a power-play goal. At the 1:38 mark, Phelps received a pass from senior assistant captain Cason Hohmann in the slot, for Phelps's first goal of his collegiate career.
"It was a power play, Cason Hohmann drove it wide and [junior forward] Matt Lane made a nice net drive which took the D back," Phelps said about his goal. "I was fortunate enough to be open in the slot, and fortunate enough for it to go in."
Quinn said he was impressed with the effort and progress made by Phelps.
"Chase has played well and he's earned the opportunity to play the minutes he did," Quinn said. "He scored a nice goal on the power-play rush. Hohmann does a good job going wide, Lane goes to the net, they find Chase in the high-slot area and he gets rid of it quickly. He's got a quick shot, kept it low and I'm not surprised that he was able to capitalize on it, because he does have a quick release."
That tie disappeared with two-and-a-half minutes remaining in the second period when forward Mike Panowyk netted a goal for Colgate. BU's deficit was nulled just 16 seconds into the third period, when freshman forward Jack Eichel beat Colgate goaltender Charlie Finn — off a pass from junior captain Matt Grzelcyk, who had a career-high three assists on the night — to tie the game at two goals apiece.
Part of the way through the third period, things began to get even more chippy after a game full of pushing and shoving. Grzelcyk was sent to the box for hitting after the whistle at 6:13. 39 seconds later, Rodrigues and Lane were sent to the box for the same call. Colgate received matching penalties on each.
Even without some of their best players on the ice, the Terriers were able to hold steady at the midway point of the third period, and ultimately, BU found a way to break open the lead at the end. Junior forward Danny O'Regan scooped up a loose puck with 1:27 remaining to give BU a 4-2 lead. Rodrigues added an empty-netter with less than one second remaining.
O'Connor had 27 saves in the contest, anchoring BU in the victory. Finn tallied 25 stops.
Quinn said despite the team's slow start, his team had an impressive effort throughout.
"There's no easy games at this level," Quinn said. "Certainly not when you play a team like Colgate.
"I felt like as the game went on, we deserved it."