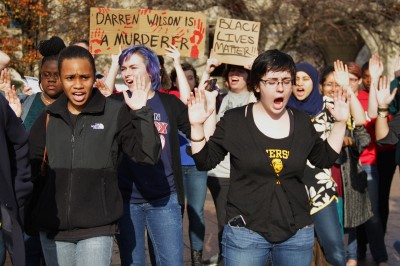 Following the St. Louis County grand jury decision announced Nov. 24 to not indict Ferguson, Missouri police Officer Darren Wilson in the shooting and death of Michael Brown, members of the Boston University community assembled at Marsh Plaza Monday to raise awareness about racial profiling and police brutality.
The demonstration, called BU #HandsUpWalkOut, began with a "walk out" at 1:01 p.m., the time that 18-year-old Brown was shot and killed. The walk out was meant for protesters to drop whatever they were doing and walk over to Marsh Plaza to gather with others. At about 1:10 p.m., protesters staged a "die-in." Students sprawled out on the plaza in silence for four-and-a-half minutes, symbolizing the four-and-a-half hours Brown's body remained on the street.
"Tell me what democracy looks like," said Pamela Lightsey, associate dean at the School of Theology, to which a member in the crowd responded, "This is what democracy looks like. You are here to move this mission to the next level of justice."
Approximately 50 people attended the die-in at Marsh Plaza, chanting "Shut it down" and "End black violence" with their hands in the air, a stance that has become an emblem for Brown.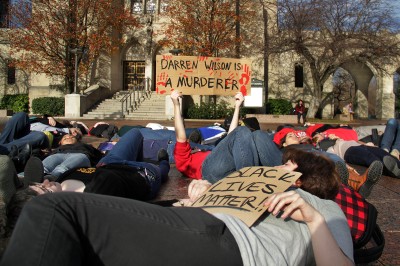 Noor Toraif, a College of Arts and Sciences junior, said the demonstration and the die-in, in particular, elicited an emotional response.
"When I was lying on the floor, I was staring directly at the American flag with anger and confusion," Toraif said. "Here we are, living in a supposedly post racial society, protesting on a college campus with the American flag looking over us, still talking about people getting killed for the color of their skin."
Demonstrators read aloud the names of other black victims of police violence, including Trayvon Martin, who was killed by neighborhood watch coordinator George Zimmerman on Feb. 26, 2012 in Florida, and Tamir Rice, a 12-year-old boy shot and killed by Cleveland police Officer Tim Loehmann on Nov. 22.
"Martin Luther King [Jr.] and the Civil Rights Movement is seen as something that is a staple of Boston University, but there are not many doing anything that actually matters towards valuing civil rights and people of color," Toraif said.
Following the walk out, many joined the hundreds of high school students from around the Massachusetts area to march down Commonwealth Avenue and around BU's campus. BU Police Department officers monitored the demonstration and kept participants safe as they made their way into the street and temporarily halted traffic.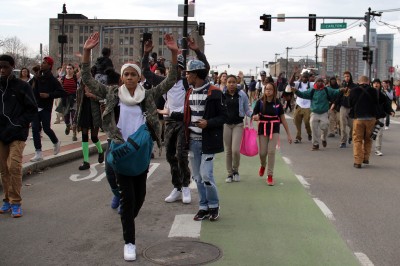 Marwa Sayed, a CAS sophomore, said while this is only the beginning of a social movement, sustained protest is a start.
"Usually an issue arises and there are protests for a day or two, and I'm just amazed by the marches that went by and the protest that was at Marsh Plaza as well," she said. "The fact that people seem to be carrying this on and able to sustain their energy and keep on going is incredible."
Lucy Gamades, a freshman in the College of Communication, said in response to the grand jury decision, students can actively recognize injustice and mobilize to raise awareness.
"What happened to Michael Brown was a tragedy," she said. "I honestly don't know where things will go from here, but I think if people take the time to educate themselves about the issue, read the transcript from the trial and just look at the statistics, enough people will stand with the protesters and make some positive change."