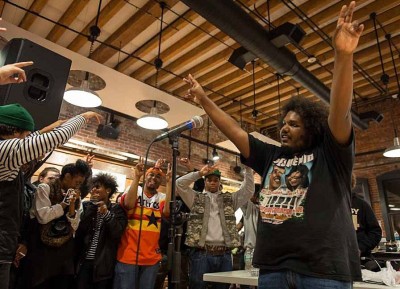 Celebrated returns rank among the most thrilling narratives, and Michael Christmas' homecoming show Wednesday evening was no exception. Fifteen minutes before the Roxbury-raised rapper's 6 p.m. set time, a crowd of suburbanites, city-dwellers, taste-makers and local artists thickened atop the loft of the Converse store on Newbury Street.
Attendees anticipated the same moment: Christmas' first Boston performance since embracing the "Entourage" dream and relocating to Los Angeles last month.
They didn't wait long. Arriving on stage several minutes early, Christmas, tangles of afro spilling out from under his red trucker hat, rose from the metallic stairway to greet his supporters. Hoots and hollers erupted upon first sight of the jolly MC. He paused as he passed, turning toward his young cousin, placing both hands on the child's small shoulders and sharing a newly learned truth: "Anything you want to be, you can be that."
But the feverish fans and groomed room — outfitted with gleaming wooden floors, towering monitors and a cathedral ceiling — made it easy to glance past the event's gravity. In truth, these gatherings seldom occur because Boston artists rarely warrant a reason to host them. Most don't ever leave New England's limits. Christmas, at least for now, is an anomaly, and unsurprisingly so. After all, how many rappers sing along to the "Pokémon" theme song to start a show? Ten tracks followed that opener, a charge of childhood nostalgia that could leave the Grinch struggling to suppress a toothy grin. That's the art of Christmas cheer.
Between "Y'all Trippin'," the leadoff song on Christmas' February-released debut mixtape, "Is This Art?" and "Bootleg Designer," which features Sir Michael Rocks, the Beantown rapper initiated a motherly call-and-response. Adhering to his request, the 50 or so folks cluttering the small space yelled, "I love you Mom!" Christmas comically oozed back, "I love you, too," and by the end of the night, the exchange had stuck in the artist's growing stage lexicon. "Tick, tick, TICK," his signature ad-lib from last summer, still flows like a rushed onslaught, each barrage paced slightly differently than the last, as strongly as it always has.
The fans mirrored every intonation and mimicked every phrase without fail. As Christmas invited everyone to join him in jumping about, the floor paneling began to constrict and contract like a tightly woven trampoline, prompting looks of panic from the store supervisor. The rapper then parted his sea of loyal listeners to seize control of a plush bench beside a shoe display, grabbing one fortunate fan who had memorized the material word for word.
Opportunities to rehearse Christmas' rhymes ran thin, however. Half of the songs he rapped have yet to be released, but each promised that the next project to come from Boston's best young act will continue to exhibit his considerably-developed ear for beats and melody.
One such song, devastatingly titled, "Look Up, There Ain't No Stars In The Hood," undergirds words of transcendence and trouble with stomping kicks and starry-eyed organs. Christmas would rather deal with the City of Angels, where at least the proximity to achievable dreams compensates for the occasional smog that obscures the celestial lights beyond it.
He concluded the night with "Michael Cera," a track that's amassed over 150,000 YouTube views since its release in October 2013. With it, crowd interaction hit a new peak, as every mouth in the room spat the single's infectious hook, "I think I'm Michael Ceraaaaaaaaa."
Not surprisingly, that conclusion doesn't actually end the night. Demands for an encore quickly rippled throughout the makeshift venue. Christmas gleefully invited his enigmatic and gifted pal OG Swaggerdick to perform "Hit Man." Just as Cousin Stizz, another Boston rapper and Christmas' friend, sparked a roar of approval and prepared to perform his Drake-cosigned hit, "Shout Out," Converse employees cut the party short. Christmas managed to quickly extinguish the audience's anger, though, and directed everyone outside, where a large group of those who arrived too late to get in waited smiling.
In 2011, Los Angeles rap collective Odd Future nearly sparked a riot during an appearance at Newbury Comics, just a few stores down from Converse. Christmas came close to rivaling that fervor, if not the wild antics. A blob of family (his dad watched the entire event), friends and fans rushed him after the show like a baseball team after winning the World Series. The lines between those three groups grow fainter as his buzz brightens.
Despite praise-filled profiles in some of hip-hop's leading publications (Complex; The FADER) and cosigns from JoJo, Mac Miller (who, Christmas later tells me, is a true friend and collaborator) and many more, Christmas' ego has yet to balloon. What matters most to him is coming home.
"I was trying not to cry," Christmas admitted of his return, standing at the edge of a small mob that had encircled him seconds prior. "I missed my friends and fam, and I leave at 9 a.m. tomorrow morning."
He interrupted himself to scream at a friend who narrowly avoided walking into a moving car, before warning another one moments later. The latter hugged the affable artist, thanking him for saving his life. Christmas continued his sentimentalizing.
"It's bittersweet," he said, allowing another smile after collecting his thoughts. "But it's the biggest blessing."