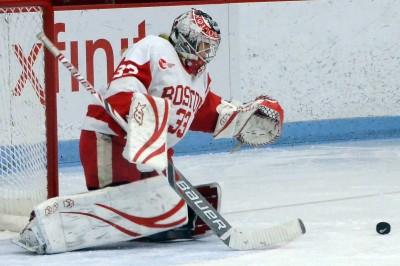 Following a solid victory against Dartmouth College this past weekend, the No. 5/6 Boston University women's hockey team returns to action this Saturday in against the University of Vermont.
This will be the Terriers (10-3-2, 6-2 Hockey East) first meeting with the Catamounts (8-8-1, 1-6 Hockey East) this year, but the two are familiar foes. The teams played three times last season, and the Catamounts took two of the three contests.
In their first meeting Nov. 2, 2013 at Walter Brown Arena, the Terriers dominated the game, winning by six goals while shutting out the Catamounts. Then-senior forward Louise Warren netted two goals while then-senior goalie Kerin Sperry had 28 saves to completely shut the door.
Later in the 2013-14 campaign, the Terriers traveled to Vermont for a weekend series. Jan. 24, the Terriers dropped a 4-2 decision and a day later, the Catamounts topped BU by a score of 5-1. Five of Vermont's nine goals came in the third period, when the game was still in reach for the Terriers, but the team was unable to capitalize.
Those two losses came amidst BU's largest losing streak last season, as the pair of losses extended the skid to four before the Terriers stormed back to win a home-and-home series against the University of Connecticut.
This time around, the Terriers are surging thanks to the recent return of senior forward Marie Philip-Poulin from injury. BU has won four of their last five games and have showcased a considerable amount of offensive prowess. Against Dartmouth (4-4), Poulin recorded three points with two goals and one assist. In addition, junior defenseman Lillian Ribeirinha-Braga recorded her first goal of the season and junior wing Sarah Lefort recorded her team-leading 11th goal of the season.
Sophomore goaltender Victoria Hanson has also shined as of late, making 21 stops in the game against Dartmouth and 24 in the the team's Nov. 23 contest against the University of New Hampshire. Hanson is undefeated in her last five starts.
In the beginning of the 2014-15 campaign, the sophomore split time in net with freshman Erin O'Neil. However, Hanson has started to distinguish herself as BU's go-to netminder. Hanson leads the games-started category by three, has let up fewer goals in more time, boasts a higher save percentage and owns an impressive 7-1-1 record.
The Catamounts, on the other hand, have struggled in their recent games, winning only one of their last five. They are currently ranked seventh in Hockey East, tied with UNH (3-13-1, 1-5 Hockey East).
Vermont has particularly struggled in Hockey East play, as the team owns a league 1-6 record.
In net, sophomore goaltender Madison Litchfield has a save percentage of .901 and has won six of her fourteen starts. On the other side of the ice, forward Brittany Zuback leads the team in goals, with 11 total. Junior Dayna Colang and senior Amanda Pelkey follow shortly after with eight goals apiece this season. Despite their less than stellar record, the Catamounts are middle of the Hockey East pack in scoring offense and defense, averaging 2.59 goals a game while allowing 2.76. Vermont is outscored by almost a two-to-one margin in conference, scoring 14 goals to its opponents' 26. However, in and out of conference play, the Catamounts actually have a plus-nine goal differential.
Regardless of Vermont's Hockey East struggles, the Terriers will have to put their best foot forward if they want to keep their five game unbeaten streak going.