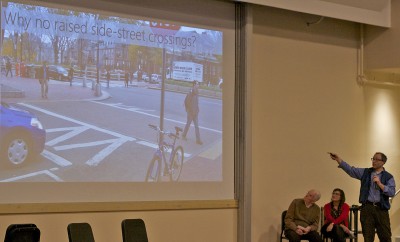 The Boston University student-run group BU Bikes hosted a public meeting Tuesday in Jacob Sleeper Auditorium, bringing advocacy groups and Deputy Commissioner James Gillooly of the Boston Transportation Department together to speak about the upcoming Commonwealth Avenue Phase 2A construction plans.
The plans will renovate the stretch of road from the BU Bridge to Packard's Corner in Allston. Advocates expressed concerns with the City's plans and spoke about the benefits of including a cycle track, which is a physically protected and sectioned-off bike lane, to make the area safer for pedestrians.
"It's just important to remember that these major reconstructions happen maybe twice a century, every 50 years," said BU Bikes President David Miller. "Cities all over the world are getting cycle tracks. It's been proven that cycle tracks are beneficial, and they work very well at reducing accidents. If we don't get a cycle track installed for this renovation, it may be another 20 years or more."
About 125 residents, advocates and students attended the meeting, which featured presentations from representatives of various Boston-based bicycling and pedestrian organizations, including the Boston Cyclists Union, LivableStreets Alliance, Massachusetts Bicycle Coalition and WalkBoston.
Gillooly said meetings, such as the Tuesday gathering, are key to helping the City develop its construction plans in a way that best serves the community.
"We're at a key point now where we're trying to evaluate what's the best balance of all the uses," he said during the meeting. "At this point, we're still looking at about four proposals. We do want to try to bring some closure to this, and so this is important tonight to hear from you, because we're in the process within the next month, month and a half, of trying to get to a point where we say we have a preferred option."
Miller said the main goal of most bicycling advocates is to implement a cycle track.
"When you have a physically protected bike lane, it's pretty much impossible to get 'doored,' and it's impossible for cars to enter your lane because it's separated," he said. "It's impossible for them to right-hook you, basically. You basically eliminate all those types of accidents, which account for roughly 30 percent of the total accidents that you see."
Jeffrey Rosenblum, president and cofounder of the LivableStreets Alliance, said including bikes in the construction plans is important because the mode of transportation is increasing in prominence in the city.
"Car volume on the street is dropping. Pedestrian activity, people walking, is increasing by 80 percent," he said during the meeting. "Bicycling has more than doubled since the bike lane was put on a section of Comm. Ave. Since 1964, we keep breaking records for MBTA [Massachusetts Bay Transportation Authority] ridership."
Barbara Jacobson, program manager for the Massachusetts Bicycle Coalition and a graduate student in the Metropolitan College, said an increase in the use of bicycles as transportation could have economic benefits.
"Although pedestrians might not spend as much per trip when they go to a store, they tend to go more often," she said to the crowd. "Cumulatively, [they] spend more on average than another person with a car."
Several attendees said making Comm. Ave. safer for pedestrians is important, but they also share concerns about how MBTA services will be improved.
"Two things really stand out," said Jackie Douglas, the executive director of the LivableStreets Alliance. "One is the comments about cycle tracks and separated bike lanes. The other thing is giving priority to the Green Line and buses as well, because that's how most people get around."
Jeremy Mendelson, an editor and writer for the transportation news site Transit Matters, said the ideas from the meeting about improving the Green Line are an essential step in improved transportation along Comm. Ave.
"The B Line is inadequate," he said. "The B Line is carrying so many thousands of people everyday, and we give it a tiny little bit of space. Meanwhile, we have cars with five times that space. And what's good for transit is not good for cars. There are a lot of things that could be done for the B Line."
Jonathan Fertig, 37, of Dorchester, said he was skeptical of the City's commitment to implementing a cycle track.
"My dream is the same as probably most people here, which is that a cycle track will run long and wide down the 'Great Avenue,' but to be honest, I'm pretty pessimistic about it," he said. "Hearing the equivocation coming from the Boston Transportation Department didn't give me a lot of confidence that they're going to really execute this."