We've all heard of breakfast for dinner. But on Wednesday night, Boston University will be serving the morning meal just a little bit later at the Midnight Breakfast, held by the College of Arts and Sciences Office of Student Programs and Leadership, Dean of Students Office and Student Activities Office.
"This is new for our office, to do this event," said Stacy Ulrich, director of the OSPL. "We've heard of midnight breakfasts that have happened in the past, years ago. But this is the first one that our office is doing and … this is the first one at 100 Bay State [Road]."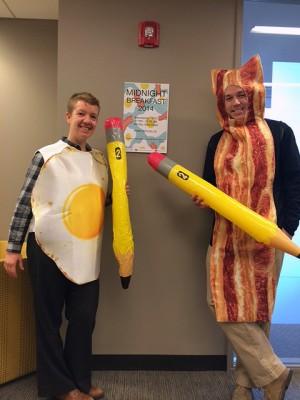 The Midnight Breakfast crew plans to utilize all six floors of the Yawkey Center for Student Services, said Matthew Lengen, program director at OSPL.
The activities planned for the evening include a cappella performances by BU's In Achord, Chordially Yours and BU BosTones, a cookie decorating station, raffles, massages, a photo booth and "resources" on hand from the Educational Resource Center and Student Government, Ulrich said. There's even the possibility of puppies.
"The woman said that she's bringing puppies, but until the puppies are here, I don't want to say that they're confirmed," Ulrich said with a laugh.
The inspiration for this year's Midnight Breakfast came from Ulrich's past experiences with similar one's at New York University, where she worked in residence life for eight years.
"We wanted to replicate it here and bring it back from its previous iterations at BU," she said.
Lengen said the breakfast is suited for the transition time between the end of classes and the beginning of study period and final exams.
"The purpose of the Midnight Breakfast is really a chance for the faculty and staff at BU to show the students that we kind of understand where they're at," he said. "They're stressed out studying for finals, and this is a great opportunity for us to tell them we understand and that there is a resource. All the things we have set up for students to do all get to that point, [gives] a chance for them to relax and really take a minute to themselves and not to worry about studying for a short time."
In terms of whether or not this will be a recurring event on campus, Ulrich and Lengen will be looking not only at the number of students who attend, but also how engaged those students are in the different activities.
"If students are flowing throughout the building, if they are taking advantage of everything that we're offering them that night — the massages, the photo booth, the desserts, the potential puppies, all those types of things … we'll be able to judge some of its effectiveness based on the flow of traffic in the building," Lengen said.
Ulrich stressed the importance of social activity in determining the breakfast's success.
"Are they [students] talking to each other?" Ulrich said. "Are they meeting faculty? Are they meeting administrators? Are they meeting other students and making connections through the event?"
These are important questions to determine whether the Midnight Breakfast was an appealing idea to students, she said.
"A third way [to measure success] is if we see them relaxing," Ulrich added. "Are they going to let go of that final stress for a little bit?"
Students said they were optimistic about the night of food and fun.
"I'm really excited to go," said Alexandra Chin, a freshman in CAS. "I hope it's a good way to de-stress."
Pedro Pereira, a freshman in CAS, said he was drawn to the variety of activities scheduled for the breakfast.
"Massages, free food, puppies?" he said. "I'll go!"
Midnight Breakfast will begin at 11 p.m. on Wednesday and end at 12:30 a.m. on Thursday at the Yawkey Center for Student Services at 100 Bay State Road. The event is free for BU students.