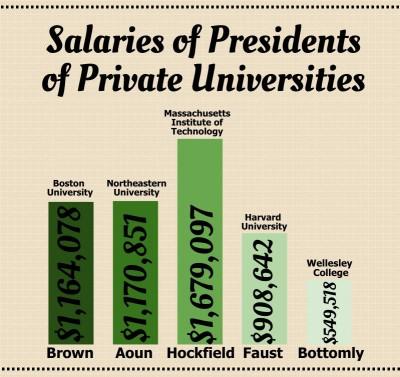 About 36 nonprofit private college presidents, including Boston University President Robert Brown, earned more than $1 million in 2012, a Sunday report in The Chronicle of Higher Education found.
The report, which analyzed the total salary compensation for presidents at 497 schools with the largest endowments, used information from Internal Revenue Service forms reported to the U.S. Department of Education.
Brown earned approximately $1,164,078 million in executive compensation for 2012, putting him as the 20th highest earner on the list.
Colin Riley, BU spokesman, said the Executive Committee of the Board of Trustees determines the president's salary and compensation.
"It's fair compensation, and by any measure, his leadership and vision for Boston University has resulted in the university continuing to make strides and to provide quality education to its students," he said. "The total compensation includes what the Executive Committee from the Board of Trustees determined was a fair increase [of 4 percent]."
President Shirley Ann Jackson of Rensselaer Polytechnic Institute  received a total compensation of approximately $7 million, the highest total for any president on the list, and President John Lahey  of Quinnipiac University and President Lee Bollinger  of Columbia University in second and third, respectively, each with more than $3 million, according to the report.
Source: Chronicle of Higher Education. Note: Frederick Lawrence became the president of Brandeis University in 2011. Thus, his pay in previous years are rendered as $0.
Components of compensation include a base salary, bonuses, nontaxable benefits like health care and employer-provided housing and other forms of payment, such as travel and meals, according to the report. Deferred compensation, which is payment set aside to be paid out in later years, is not included in the total compensation.
In comparison, Brown's base pay of about $790,000 is 5.2 times more than the salary of a full-time BU professor and 27 times the full tuition of a BU student, according to the report.
Riley said Brown's salary includes nontaxable benefits such as the president's housing allowance.
"About one-fourth of the $1 million in value for the residence is added to the total compensation, and he is required to live there by the University," he said. "We include the value of the entire property, not just the portion that he uses while some schools, I understand, only calculate the portion they consider a president's residence."
University tuition increases and Brown's salary increases are not related, Riley said.
"[For] the cost of operating the university, 50 percent of the university operation revenue comes from tuition," he said.
The report placed colleges into peer groups for comparisons. In a group of 10 institutions including New York University, George Washington University and Tufts University, Brown ranks fifth, according to the report.
Compared to presidents in the Greater Boston area, Brown is the third highest paid behind Massachusetts Institute of Technology President Susan Hockfield at more than $1.6 million and Northeastern University at $1.17 million, the report stated.
Harvard University President Drew Faust came in behind Brown receiving more than $900,000, and Emerson College President M. Lee Pelton received more $700,000, according to the report.
Joel Scott, professor of higher education administration in BU's School of Education, said he and other faculty members at BU have seen an increase in the number of administration positions and university costs.
"For the university president … it would be an insightful inquiry to poll faculty on what would constitute a fair salary," Scott said. "It seems now presidential salaries are market-driven within peer groups and mirroring CEO salaries and responsibilities. We have seen an increase in hiring ex-CEOs of major enterprises, so I imagine this is part of the competitive reality facing universities."
Several students said while they are not surprised about Brown's salary, they are still concerned about the significant amount he makes.
"Although I am totally fine with a private enterprise paying their employees what they please, it is concerning that our president's salary is so high when his own employees are striking about their low salaries," said Bronsen Bloom, a freshman in the College of Communication.
Hillary Waite, a College of Arts and Sciences sophomore, said instead of paying Brown so much, some of the money could go to helping students out with college affordability and programs that will enrich their educations.
"President Brown probably has a higher salary than I'll ever make," she said. "It isn't fair to market your university so much and tout all the good jobs everyone is getting when you make way more a year than some of your students ever will."
Katherine Yau, a senior in the School of Management, said while Brown has increased the funding and reputation during his time at BU, the university shouldn't be as generous with his salary and increases.
"A 2 to 4 percent increase is far more substantial on a $1 million salary than most standard wages," she said. "In the case of university presidents, this rate should be applied only every several years. BU has come far and will continue to climb the rankings, but in the meantime, a fairer perspective on its finances may be in order."
Although Brown plays an important role on campus, Yau said it would be nicer to see him make an effort to interact with students.
"I've never had the opportunity to interact with President Brown," she said. "His presence is not often felt by the BU community, and thus it is hard to reconcile his salary as being 27 times the full annual tuition."
[rawr]



[/rawr]