Best New Boston Bite: 2014, year of the fancy doughnut
Brooke Jackson-Glidden
While San Francisco is hyperventilating over $4 toast, Boston has the breakfast game down with a new twist on a classic.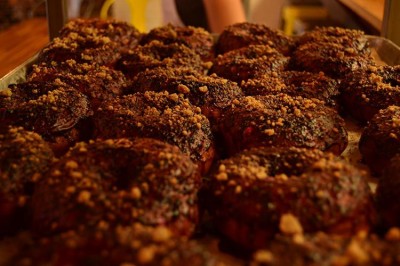 Let's be honest here: Boston has always been a doughnut town. Between the custard-filled Boston cream pie doughnut and deep-rooted Dunkin' Donuts-mania, the Hub's doughnut craze is nowhere near its beginning. But this year, Boston turned the doughnut into the new cupcake.
Doughnuts this year have sported fried eggs, crushed cookies, bacon and peanut butter. They've been fried and baked, topped and stuffed. They've been croissant-ified, umami-ed, practically pickled — and Massachusetts' food pioneers are to blame.
Stephanie Cmar of "Top Chef" may have instigated the frosted fervor with her pop-up, Stacked Donuts. Cmar's April residency at South Campus lunch spot Mei Mei ended before the oil could cool, in a breezy 30 minutes. At this event, Stacked Donuts sold unique doughnut flavors, like green tea and blueberry pie, as well as cherry limeade and homemade birthday cake Pop-Tarts.
The Gallows is leaving foodies restless, promising savory doughnut concoctions at the upcoming Blackbird Donuts in the South End. Union Square Donuts in Somerville expanded in October, moving into a larger space and staying open six days a week. Kane's Donuts, a Massachusetts institution approaching its 60th year, plans to open a Financial District location to appease Boston's crueler fanatics. Not to mention you can now buy a cronut-equivalent at Boston's beloved Dunkies.
Best TV Show: TV on the Internet with "High Maintenance"
Hannah Landers
Even among a fall television schedule littered with cutesy, saccharine romantic-comedies ("A to Z," "Manhattan Love Story") and somber, self-important dramas ("Gracepoint," "Red Band Society"), viewers are still firmly planted in the "New Golden Age of Television," as proven by the creative storytelling of this season of "Louie," the pioneering antics of the girls of "Broad City" and the much talked about (and occasionally problematic) "True Detective." That's why it feels like a cop out to choose "High Maintenance" — a web series that premiered in 2012 — as the best television show of 2014.
Co-created by husband and wife team Ben Sinclair and Katja Blichfeld (who won an Emmy Award as casting director of "30 Rock"), "High Maintenance" is centered around the deliveries of a marijuana dealer (played by Sinclair) to his coterie of eccentric, amusing and sometimes unbearable clientele. The series, which has relied on non-paid actors and crew during much of its 16-episode run, officially received funding from Vimeo for the production of its fifth season, which premiered on Nov. 11.
Each five-to-15-minute vignette highlights one of a colorful cast of characters — an agoraphobic obsessed with Helen Hunt, a stalled screenwriter who dabbles in cross-dressing and an asexual magician — that leaves the viewer with just enough to strike an emotional chord in one way or another.
Interestingly enough, it's the recurring character of the pot dealer, known by his clients only as "The Guy," that the viewer ends up learning the least about. Equal parts hilarious, heartbreaking and outright absurd, "High Maintenance," which might seem like a silly Internet series about smoking weed, actually comes across as a thoughtful contemplation on universal truths about humanity once the smoke clears.
Best Movie: "Boyhood," your life as directed by Richard Linklater
Joe Incollingo
Remember that time when you were a kid? And then you weren't, because you grew up? Richard Linklater remembers.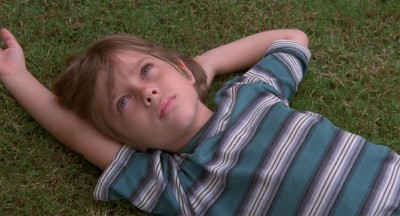 "Boyhood," which Linklater penned and directed, turned many heads this summer for its "12-years-in-the-making" shtick, and with good reason. The film follows the same characters aging in real time, playing out like a series of heartfelt shorts from different chapters in the life of one kid (Ellar Coltrane), his sister (Lorelei Linklater) and their divorced parents (Patricia Arquette and Ethan Hawke).
These weren't just any 12 years, though. Every uprooting move across the state, every brush with a grown-up's violent temper and every quiet first kiss that detaches the viewer from time, turns these shorts into your 12 years.
Watching "Boyhood" feels like remembering it, an experience made unsettlingly realer by a slew of transparent performances and, if you too were born around 1995, a perfectly-curated soundtrack that pulls you back to those exact scenes in your own personal Bildungsroman. It's hard to imagine any coming-of-age film getting it this right for a long time.
Best Album: The brash and beautiful "Run the Jewels 2"
Alex Siber
The self-titled "Run The Jewels" sequel, released in October by former OutKast pupil Killer Mike and Definitive Jux king El-P, is the best album mainstream America has never heard of. The 11-track amalgam, a monstrous mix of fang-bearing beats and bulletproof rhymes, towers over everything else that entered the music continuum in the past 12 months. Hip-hop or otherwise, this duo stole the crown — no apologies offered.
As Eminem and Taylor Swift busied themselves reviving the illusive success of a bankrupt business model, Run The Jewels examined it at its roots and corrected for flaws. Mike and P dismantle the modern rap album, leaving a trail of near-perfect gems in their wake. A reassembled collection of timely rally cries ("When you [expletive] gon' unite and kill the police, [expletive]?") and earnest admissions ("Everyday I'm in a fight for my soul … high seas and a rickety boat, smoke O's so the kid might cope") make for some of the densest verses in recent memory over the brashest production.
When they aren't sharing relevant quotables in song after song, the pair reinvents the idea of middle-finger hip-hop. Whether you're a law enforcement officer, balding bigot or teenage nitwit, you'll find yourself staring down the barrel of Run The Jewels' semiautomatic. To quote the title of one of the album's finest tracks, "Close Your Eyes (And Count to [Expletive])."
Best Fashion Trend: The new normal with "normcore"
Hannah Landers
The runway is the place where the outlandish thrives — giant fur coats dwarf diminutive models, elaborate beaded headdresses are run-of-the-mill, and dresses are adorned with everything from sequins to feathers. But this year, the casual trounced the eccentric with the phenomenon known as "normcore."
Modeling itself after the styles of Jerry Seinfeld and Liz Lemon, normcore celebrates white sneakers, non-descript button-downs and mom (or dad) jeans. While there has been debate about how sincere the movement is — Elle magazine blogger Lauren Sherman argued that it's just another modern re-appropriation of yester year's fashion, this time targeting the 1990s, rather than the 1980s or 1970s. It's hard to argue with a fashion trend that encourages you to ditch the high heels and miniskirt for a flannel button-down and a pair of New Balances.