"Eureka!" might serve as a proper summary for Boston University's scientific community in 2014. But given this year's wealth of topics investigated by faculty, staff and students, catchphrases of choice may show some campus-wide variation.
From CH 101: General Chemistry experiments to cross-sectional public health studies, scientific inquiry is a core part of BU's identity. Here are some of this year's highlights that serve as proof: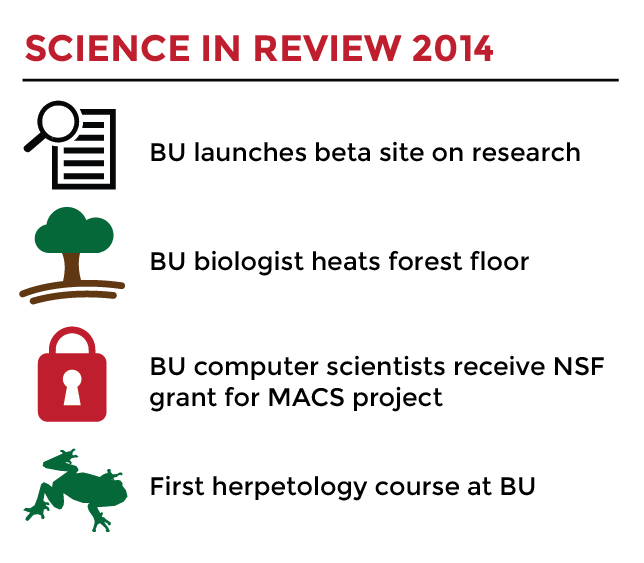 BU launches beta site on research
In an effort to highlight all things research, BU created its own beta site, aptly named "Research," which opened its virtual doors on Oct. 20. The site includes a variety of multimedia features, profiles and question and answer interviews, along with information for students and faculty interested in research.
Research's debut story, titled "Behind the Vapor," targeted the topic of electronic cigarettes through a series of student-starred videos and Q&A interviews with professors from the School of Public Health and the School of Medicine, in an attempt to show the pros and cons of "vaping."
BU computer scientists receive NSF grant for MACS project
Researchers at the Rafik B. Hariri Institute for Computing and Computational Science and Engineering received a $10 million Human Frontier Science Program grant from the National Science Foundation's Secure and Trustworthy Cyberspace program in support of the Modular Approach to Cloud Security (MACS) project, according to a July 31 press release.
The goal of the MACS project is to develop a multi-layer security system to mimic the systems of a computer or a smartphone in order to better understand why the processes performed by these systems go wrong, resulting in everything from a misdirected email to a leak of private celebrity photos.
"The MACS project takes a radically different look at security in the cloud," said Azer Bestavros, professor of computer science at BU and director of the Hariri Institute. "The solution we are researching in the MACS project is a solution where one can combine different security mechanisms to achieve overall security."
The word "modular" in the project's title refers to these different kinds of approaches, he said.
The Massachusetts Open Cloud, a statewide cloud infrastructure project also led by BU, is serving as a testing ground for the team of researchers to run security prototypes. The project is expected to last five years, yielding in-depth insight into the intricacies of data's mysterious host: the cloud.
BU biologist heats forest floor
New Hampshire's Hubbard Brook Experimental Forest had its temperature turned up in April when Pamela Templer, professor of biology at BU, activated heated cables within the forest's soil. Templer and her research team simulated climate change in an effort to investigate the effect of both warm and freezing temperatures on soil.
"Climate change is not just in the winter," Templer said. "It's throughout the year."
The heated cables were planted in response to a five-year snow removal study Templer's team performed at Hubbard Brook, which unveiled the damaging effects that diminished snowpack, or masses of snow compressed and hardened by their own weight, places on soil, she said.
In response, she wanted to know if a warmer ground would benefit Hubbard Brook's soil.
The team is overseeing six plots of land, two of which are un-tampered control groups. Analyses regarding everything from photosynthesis in leaves to soil-emitted gases were conducted. With this information, the team began unraveling the detriments that come with cold temperatures and the suggested benefits of a warmer earth.
Currently, the team is cycling the plots through different temperatures by shoveling on overlaying snow, allowing the plots to freeze for three days and then thawing them by activating the heated, in-ground cables.
"That way we can look at the interacting effects of warmer soils in the summertime and colder soils in winter," Templer said. "And we're making a whole bunch of measurements in the forest throughout the year."
Although the treatment technically started in December 2013, this year served as the project's official warm-up year. Templer said the project is expected to be a multi-year affair.
First herpetology course at BU
Herpetology, the zoological study of amphibians, was first introduced to the BU biology curriculum in Spring 2014 through a course titled "Herpetology" (BI 416).
"There are different ways of slicing the biological pie," said Karen Warkentin, professor of biology who co-taught the pilot course alongside fellow professor of biology Christopher Schneider. "Since this class is focused on organisms, we can integrate and focus on a particular group. We can talk about physiology of amphibians. We can talk about how global change affects amphibians. We can do 'big picture' and 'small picture.' … It's important for students to be able to integrate material across these different levels of organization."
In its first semester, BI 416 incorporated lectures, lab work and two field trips — one of which was a spring break trip to Florida for hands-on experience at locations such as Everglades National Park and Kissimmee Prairie Preserve State Park. The class consisted of 14 students whose passion for all things amphibious was documented throughout the semester by a group of science journalism graduate students on the website "Nets and Nooses: Adventures in Herpetology." The course will continue to be held in the spring on a bi-yearly basis.