[rawr]
[/rawr]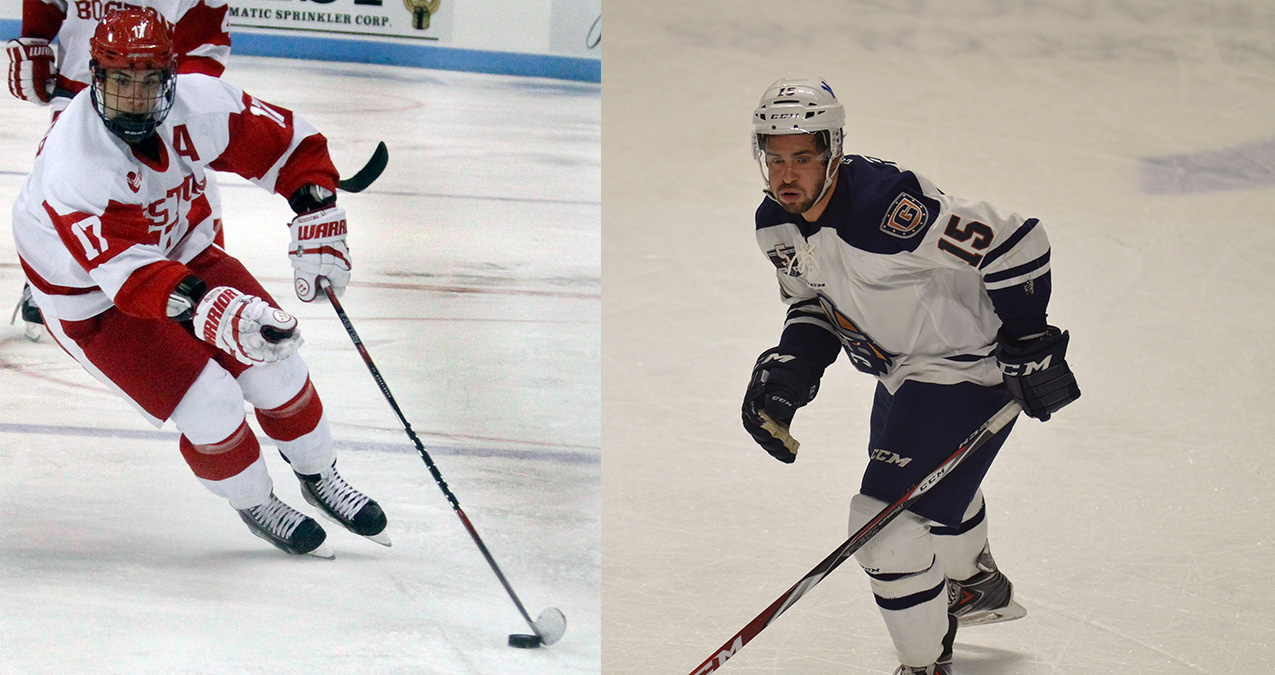 Christine and Norbert Rodrigues watch a lot of hockey. For more than two decades, they've watched their sons play hockey at various levels, all over Canada and the United States. They've watched them grow into college graduates, refined athletes and mature adults.
Evan Rodrigues, 21, is a senior at Boston University, and is a forward and assistant captain for the top-ranked men's ice hockey team. His brother, Paul, a former Division III Player of the Year, reached the national championship game twice while at the State University of New York at Oswego. Now 26, Paul plays for the Greenville Road Warriors in South Carolina, an East Coast Hockey League affiliate of the New York Rangers. In Boston, Evan is more than 500 miles from his home in Ontario; in Greenville, Paul is more than 800 miles away.
Christine and Norbert watch every game that Paul and Evan play, even if the times overlap. They don't play favorites, even if it involves a bit of a workout to pay attention.
"Today's Thursday. I come home to hockey," Christine says during the intermission of a game between Greenville and the Orlando Solar Bears. "Tomorrow, I watch Paul's game and Evan's, so we have one TV in here, one TV going in the other room, and we run back and forth. And Saturday, I have Evan's game on TV again."
Even after all these years, Christine and Norbert still get nervous. Norbert says it's because he always wants to see his sons do the best they can. Christine, a self-proclaimed "worrywart," is always on the edge of her seat during games.
"If he [Evan] goes down, and he gets hit, I cover my face," Christine says. "If he has a penalty shot, I can't look. I can't look."
Evan had missed a penalty shot at the end of the first period against Colgate University about a week prior. Christine had to work and only caught the second and third periods, avoiding Evan's miss. "Thank God I wasn't watching," she says.
All nerves and worries aside, the Rodrigues family remains supportive, encouraging and loving. Christine keeps her phone on 24 hours a day in case her boys need anything. They'll all tease each other, at times. And Christine likes to poke some fun occasionally. After uncovering her eyes during missed shots, she'll text her youngest son: "You've got hands like your father. If you had hands like your mother, you would've made it."
---
Christine and Norbert work in transportation in the Toronto area, Christine for the Toronto Transit Commission and Norbert as a driver in the city of Mississauga. Norbert, who moved to Ontario from Europe in his teens, never had the opportunity to play sports and didn't want his sons to miss that opportunity. Ryan, the oldest, didn't start skating until he was about seven or eight, but both Paul and Evan started skating at a young age.
It wasn't easy. Norbert would work during the day, Christine during the evening. She would drop the kids off at the rink on her way to work, and he would pick them up as he got off work.
Sacrifices were made. Both parents worked overtime to help pay for hockey trips. Paul's party after his first communion had to be postponed so he could go to a hockey tryout. The Rodrigues family never went on vacations for fun — if the family could scrape up the money, there was simply no time for leisure, Christine says. One year, the day after Christmas, the family had to drive to the United States for a tournament. As a baby, Evan often had to be left with godparents so his parents could transport their older sons to games and tournaments.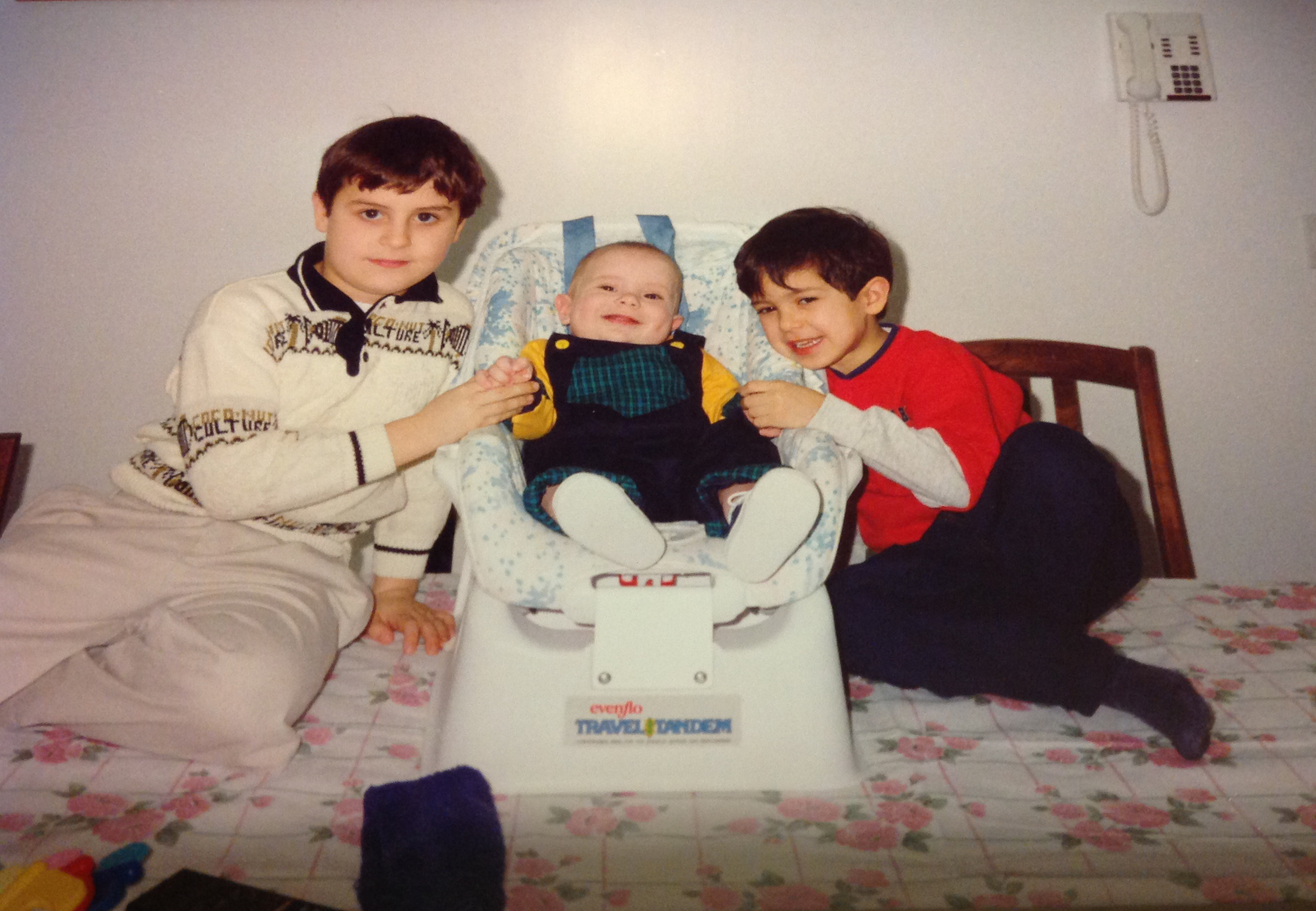 "At times, it was tough," Norbert said. "But hey, we did it for them, and I enjoyed every minute of it. I'm not gonna say that I regret it. No, I don't."
The difficulty paid off in the end, as both Paul and Evan earned scholarships to some of the best hockey programs in the United States. Paul graduated with a degree in 2013, and Evan will graduate in May. Education is a priority for Christine and Norbert, and they say they're proud to have seen their sons reach the level they have. Christine notes that she is also relieved to have seen her sons earn playing time at the university level, something many hockey parents don't have the privilege of seeing.
"All the time I went, I saw that what I invested, the time and the money and everything," she says. "I wasn't ripped, because my son played."
Though Evan and Paul play hockey, an inherently aggressive sport, Norbert and Christine describe their sons as calm and never agitated. (But Evan has the more aggressive edge, Norbert says.) Despite their achievements, they've never been arrogant. They're polite, good examples, leaders.
Evan's always taken a forward, headstrong approach, though. When Evan was 10 years old, he ended up in the hospital for four weeks with a fever of 104 degrees and a virus in his knee. He was on an IV for four more weeks at home after that. Doctors said he'd never skate again; the doctors even mentioned the possibility of amputating his leg.
But Evan wouldn't give in. He threw away his crutches, his mother recalls, and screamed, "No, no!" Within 10 weeks, he was skating again.
---
When you're a hockey family, you spend a lot of time together on the road, working out together, playing at outdoor rinks, Evan says. He grew up watching Paul play at a high level and always wanted to do the same thing.
Paul and Evan talk every day — it's a serious anomaly if they don't — with topics of conversation ranging anywhere from classes to relationships to the art of tying laces on skates. They'll hold friendly competitions to see who has more points or a better plus-minus during a weekend. They text wishes of good luck before games and will talk about how their games went afterward.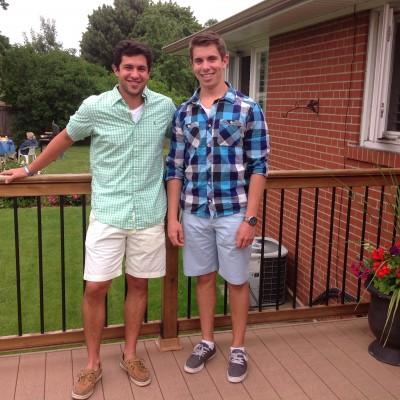 "Hockey made the two of them very tight. They're the best of friends," Christine says. "Paul and Evan are probably closer to each other than they are to me. I think Paul and Evan will go to each other before they go to me."
The brothers don't see each other too often anymore. During Evan's freshman and sophomore seasons, Paul made it out to Boston for a couple games, but now is preoccupied with his semi-pro career, which has taken him to teams in Utah, South Carolina and Florida over the course of the past couple years.
Being a "bubble guy" is frustrating, Paul says — it involves a lot of traveling, uncertainty and exhaustion. Evan is the first person Paul texts when he needs advice, and having a close relationship with his brother helps ease some of the difficulty of the job, Paul says.
"That's one of the biggest mottos that Evan and I have this year," Paul says. "Just battle through adversity."
The brothers poke a little fun, too. Paul has to stifle his laughter as he recalls the time a 2-year-old Evan got a little too excited during a computer game and got a scar on his nose after falling off a desk.
And the brothers celebrate each other's accomplishments with enthusiasm. They always watch each other's games whenever they can. When Evan had a nifty goal against Boston College on Nov. 7 that ended up in SportsCenter's Top 10 Plays, Paul got up early to watch ESPN and catch a glimpse of his brother, even though he had gotten back late the night before. Evan says he was proudest of Paul when he was named the D-III Player of the Year; Paul denotes Evan's commitment to BU as the proudest he's ever been of Evan.
"After he got to school, I started to look up to him. He's a pretty intelligent person," Paul says. "I think the roles have been a little bit reversed, even though he's in college and I'm playing semi-pro, I think I'm still looking up to him over the past few years … He might be my biggest role model right now."
---
Christine is honest in discussing her role in her sons' hockey careers. Her life wasn't easy, she says with little hesitation. She still doesn't fully understand the sport, she admits — she calls Evan's and Paul's hockey talk a "different language." She was just the one who drove them, who made sure they were happy.
Paul and Evan don't discount the impact their parents had. Both credit Norbert's love of sports as inspirational; Evan brings up the extra time Norbert and Christine worked, the money they spent, the time they spent to make sure the boys were happy.
Now that her sons are grown, Christine has started to take some time for herself. She even recently took a trip to Cuba with her husband.
Says Christine: "It was fabulous."