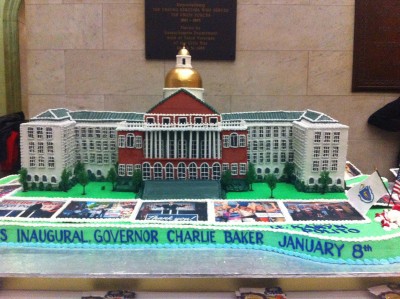 Charlie Baker and Karyn Polito were sworn in Thursday as the 72nd governor and lieutenant governor, respectively, of Massachusetts.
The welcoming ceremony, held in the house chamber of the State House, included an entrance ceremony with a 19-gun salute initiated by the 54th Massachusetts Volunteer Regiment National Guard and an informal greeting from the Baker administration to citizens of various community organizations, student groups and veterans.
As Baker swore in his Cabinet in the State House library after he was sworn in himself, he welcomed the new state leaders, saying "Karyn and I are very happy to take this state to the next level with you."
In his inauguration speech, Baker extended a "thank you" to public service workers and ensured that they would be treated with the utmost respect.
"I want to sincerely thank our public safety officers, first responders and corrections officers for the work they do," he said. "It's a service that's always challenging and at times very complicated. And with very few exceptions, these men and women do it every day with great skill and professionalism."
Baker said the Commonwealth is filled with hardworking, dedicated people and the state itself is a pioneer for many things related to technology, finance and education.
"We've led the way for the nation on issues ranging from health care reform to marriage quality," he said.
Though Massachusetts has already demonstrated itself as a state of true accomplishment, Baker said, its full potential has yet to be met, referring to the 1,500 homeless families assigned to live in motels and 200,000 people still seeking employment.
"Some of our toughest challenges have been ignored and lost amid the successes. Or have become the equivalent of kicking a can down the road because they're not politically convenient or easy to fix," he said. "I know we can do better."
In addressing these issues, Baker said that his staff "will approach their mission with a passion and thoughtfulness to make Massachusetts great."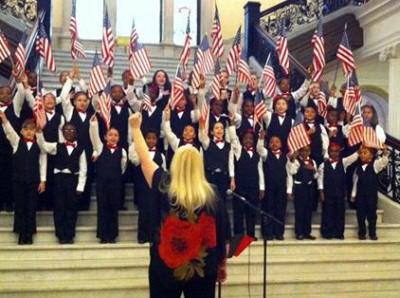 Several attendees said Baker and Polito have the ability to move Massachusetts forward and they look forward to seeing the changes made across the Commonwealth.
Tom Hodgson, 60, the sheriff of Bristol County, said Baker recognizes the importance of accountability in government.
"I see a governor who will be establishing policies that are rooted in accountability," he said. "He clearly understands that performances have to be measured in order to account for things like the spending of the taxpayers' dollars and to justify additional expenditures beyond what money has already been spent on."
He added that he is looking forward to seeing how both Baker and Polito will refine the government in a way that is less costly, but more efficient.
Lisa Rodriguez, 45, a Baker campaign volunteer and a Jamaica Plain resident, said she has hopes for the future of Massachusetts and encouragement for its new leadership as well.
"I really would love to see Boston Public School systems strengthen. Better support, financially and community-wise for our law officers, our firefighters, our public service, our teachers and he gets that, actually," she said. "Massachusetts is a good state, and I think he will take it to the next stratosphere."
Georgia Katsoulomitis, 50, the executive director of the Massachusetts Law Reform Institute, said she is particularly interested to see what specific actions Baker will take to tackle poverty.
"The advocacy community in general is very interested to see how the Baker administration handles issues of poverty and income inequality in Massachusetts, how he handles the homelessness crisis that we are now facing in the state. This is why I'm here," she said. "I'm very interested to hear how the governor will tackle poverty issues and income inequality issues and how he plans to really lift all citizens in the Commonwealth and move the Commonwealth forward and create jobs."
Susan Peng, 23, of Shanghai, happened to stumble upon the inauguration ceremony and said she was glad to have stepped foot into the Massachusetts State House.
Peng said Massachusetts is truly a great state, but like Baker, she also believes that things could be done to make it an even greater state for its people, as well as its visitors. She said that she hopes for the city to have more "welcoming policies towards immigrants and students. I always wanted to have the chance to study in Boston. If that could happen, that would be great."
Sam Cohen, 48, a Baker campaign staffer from Newton, said he has confidence in Baker.
"He's a fine individual. He's a really nice guy, very down-to-earth. Very approachable," he said. "Something that you don't really see in Massachusetts politics."