MADISON, Wisconsin — By his own admission, junior winger Ahti Oksanen had no idea where the puck hit him.
Sticks were flying and slashing the Finnish native as he crashed the net in a wild final-second scramble. But when he saw the round piece of vulcanized rubber cross the goal line with 2.2 seconds remaining in the third period, he couldn't care less where it deflected off him.
All that mattered was that the No. 2 Boston University men's hockey team had drawn even with the University of Wisconsin in an unlikely fashion.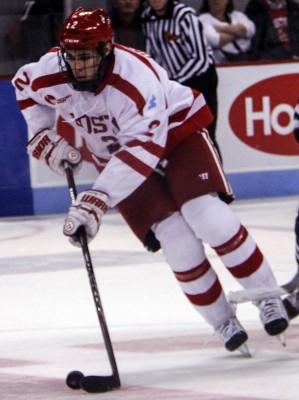 Oksanen's second redirection goal in a 1:49 span in the third period allowed the Terriers (11-3-4, 7-1-2 Hockey East) to escape the Kohl Center with a 3-3 tie against the Badgers (2-11-2) Friday night.
"I didn't really know what was going on," Oksanen said. "I saw Grizz [junior captain Matt Grzelcyk] had the puck, and I tried to drive to the net, and I guess it hit me somewhere and bounced in. I felt good of course, 2.2 seconds left, we tie the game."
BU's two-goal comeback not only earned the team a point, but it just about erased a mostly underwhelming performance against a two-win Wisconsin team. Head coach David Quinn said after the game that he told his players after the third goal about how fortunate they were to be in such a position after a poor performance.
"I said, 'You got a gift and let's take advantage of it because you don't get many of them in this game and our level,'" Quinn said. "We were down and dead and we got a lucky goal, I wouldn't say lucky, Grizzy [Grzelcyk] makes a great play. We had some chances to tie it before the two-second mark, but we got a second life and let's take it advantage of it."
The Terriers did jump out to a 1-0 lead at the 7:53 mark of the first period when freshman defenseman Brandon Fortunato wristed a shot from the left point past netminder Joel Rumpel — his first collegiate goal.
But after the freshman's goal, the Badgers (2-11-2) took their game to another level. Wisconsin skated hard, pressured consistently and found ways to get the puck toward the net. They didn't score in the first, although they had 16 shots and a few near misses on open nets. This effort, along with some BU miscues, carried over into the next frame.
Forty-one seconds into the second period, defenseman Kevin Schulze redirected a pass from forward Brad Navin under junior goaltender Matt O'Connor's leg for a shorthanded goal, tying the score at one. It was the second shorthanded goal the Terriers allowed in as many games.
Pucks continued to fly toward O'Connor for the remainder of the period, but he could only do so much. Forward Jedd Soleway carried the puck down the right circle at 16:15 and fired off a wrister that beat O'Connor short-side high for the Badgers' second goal of the game.
With BU looking to mount a comeback in the final minutes of the third, they couldn't get out of their own way — quite literally, actually.
After forward Matt Ustaski dumped the puck from the Badger defensive zone toward O'Connor with less than four minutes to go, freshman defenseman Brien Diffley was clipped in the face with O'Connor's clearance pass.  As the puck slid backwards and past the goal line, the freshman could only lift his head in vain.
"He played very well early, and then I'm sure he'd like to have that second one back," Quinn said of O'Connor. "Then obviously the third one, he needs to make a better decision there."
Seemingly out of the game with two minutes to go, the Terriers pulled O'Connor for an extra attacker and got within one goal when Oksanen deflected in a shot from senior assistant captain Cason Hohmann. And as the netminder went to the bench again and the clock ticked down toward zero, Oksanen scored a second time to force overtime.
"Well, we pulled the goalie, like I said, right after and I think it gave us a little bit more urgency," Quinn said. "When you play without a goalie, you understand what's at stake if you don't lay it on the line. And I thought we battled harder and won some battles and moved the puck, get a goal."
A better effort in the extra period — six shots on goal compared to none from Wisconsin  — wasn't enough for the Terriers to pull out a win. But in a night where Quinn felt his team was outplayed for most of the game, one point would do.
"We'll take the tie," Quinn said. "But we know that that's not going to cut it tomorrow night."