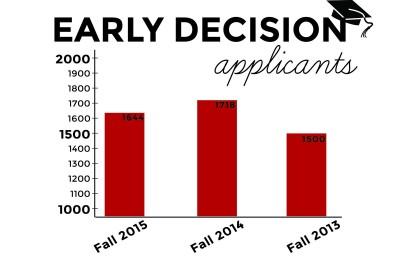 Boston University Admissions saw a slight decrease in early decision applications for the Class of 2019 compared to the Class of 2018 numbers, which were a record high for the university, said BU spokesman Colin Riley.
BU Admissions received 1,664 applications for the 2015-16 academic year, fewer than the 1,718 who applied early decision for the 2014-2015 academic year, Riley said. About 45 percent, or 741 students, were offered admission and will make up 20 percent of the total incoming Class of 2019.
"Applicants have a very competitive environment in applying," he said. "For those students who have applied early, it was a strong group of applicants … and that's an acceptance rate that will be higher than it will be for the overall class."
Up until this year, the number of early decision applications rose steadily for several years, rising 20 percent for the Class of 2017 and 16 percent for the Class of 2018, Riley said.
Riley said the increase in applications can be attributed to BU President Robert Brown's leadership, BU's faculty, the quality of the university's programs and research and the Admissions staff's outreach and identification of prospective students.
"These are generally students who have decided that BU is the school that they are willing to commit," he said. "They have shown genuine interest in being accepted because they are willing to accept the binding admission. Also many of them historically have been into programs that are career oriented — you know, engineering, health-related careers through Sargent College and business, but all schools are represented."
Several accepted students from the Class of 2019 said they are looking forward to joining the BU community and living on a campus where other students are as motivated as they are.
Adrienne Novak, from Murrieta, California, said the increased competitiveness and BU's social environment prompted her to apply early decision to the School of Management.
"I decided to tour BU, and it was April, around 30 degrees out," she said. "Everyone was still so positive, and the students had this feeling of motivation to go to class, and they all wanted to be there. Everyone was socializing. It was a good feeling to be surrounded by that kind of atmosphere."
David-Franco Centre, an incoming freshman in the College of Communication from Miami, said he chose BU primarily because of its location.
"Being in the city gives you that feeling that the city is your campus, so if I want to go study at the public library, I can go do that," he said. "If I want to go to the [Boston] Commons, I can do that as well. If I want to study on BU Beach or the library, I can do that as well."
Edward Price, who lives in Geneva, Switzerland, said he applied early decision to SMG because he liked the internships and global experience the university provides. He said the increased competitiveness only pushed him to work harder.
"Whilst the competitiveness does create a lot more stress on the applicant, it also pushes each student to really build and create a unique identity for themselves," he said. "This is one of the things I can't wait to see in person."
Incoming College of Arts and Sciences freshman Hind Halim from Plano, Texas, said she applied early after researching BU's programs and looking into the city of Boston.
"I knew it was a really rich place, and it was a fun place to be at," Halim said. "The more I searched it, the more I got attracted to it. Boston University is getting more coverage over media. I think that's why it attracts more people. I know it's a really competitive school to get into, so I'm proud."
Abby Hanssen, from Tiburon, California, said applying early to the College of Fine Arts highlights her early interest in the school and motivation to make that dream a reality.
"Basically, from the time I stepped on campus sophomore year for tours, I think it's a fantastic combination of both the urban and BU community because you're in the city, but you're surrounded by BU," she said. "It [the competitiveness] is a huge motivation because there's so many students that want basically the same thing that I want."