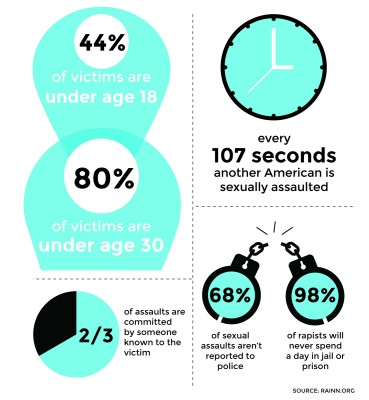 Boston University's Center for Gender, Sexuality and Activism launched a website Jan. 13 called This Is Not OK, a collaborative movement with other area schools that aims to provide a network for sexual assault response and prevention work.
Nai Collymore-Henry, a senior in the College of Communication and co-director of the CGSA, said after noticing the need for a student-run safe space program for sexual assault survivors and victims, the center launched the campaign.
"The website basically started when the CGSA decided that there needed to be some sort of physical or visual effort to combat sexual assault on college campuses," she said. "Administrations tend to put a lot of resources out there regarding their effort. However, there isn't necessarily a student effort that allows for students in different campuses to interact with each other."
The site offers information about the issues surrounding sexual assault and the ways in which students can protect themselves. CGSA is working with public relations students to create graphics and help with outreach, Collymore-Henry said.
"We want to use it [the website] to promote the idea of the various schools in terms of their sexual assault and domestic violence programs and to further the missions of these organizations," she said.
Area schools such as Harvard University, Northeastern University and Tufts University have already joined the network, according to This Is Not OK's website. The website allows people to donate money, blog about their experiences and participate in an upcoming photo campaign.
"Basically what we are doing is just seeing where it takes us … We want organizations to show their support for the campaign," Collymore-Henry said. "Basically, we are going to be showcasing events that happen on different campuses and in the greater Boston area."
Larkin Sayre, a representative for Students Advocating For Education on Respectful Relationships group at the Massachusetts Institute of Technology, said CGSA reached out about collaborating for This Is Not OK.
"The Center for Gender, Sexuality and Activism reached out to us asking for a feature to highlight how widespread the support for victims of rape and sexual abuse is in the Boston student community," she said. "We have not really been involved in the development or work of the website other than offering our support."
Maureen Mahoney, director of BU's Sexual Assault Response and Prevention Center, said while CGSA is independent from SARP, the groups often work together on events and initiatives.
"The website This is not OK Boston looks like a promising way to organize schools in the greater Boston area to work together to prevent sexual violence," she said in an email.
Several students said they are optimistic about This Is Not OK and what the movement plans to accomplish through collaboration with other schools.
"Students are given an outlet where they can look at information about sexual assault and learn how to combat it and talk about it, so it's a good place to get information. The topic is very hush-hush, so having a website that makes it okay to talk about is helpful for students," said Kate Blasco, a sophomore in COM.
Ellen Lee, a COM freshman, said she is glad there is a place for sexual assault survivors to receive support and activists to share information.
"I'm glad they're going to team up with other schools to promote the campaign, because it makes the community they are trying to reach larger than just our own school," she said. "The leaders of the campaign should stay active and plan different events on and off campus in order to be heard in the community."
Abby Greenwood, a sophomore in the Sargent College of Health and Rehabilitation Sciences, said she appreciates CGSA's efforts in creating the website, but more needs to be done to make sure sexual assault and violence are thoroughly addressed.
"We have so much social media going on right now that one hashtag isn't going to make a big difference unless there is activism behind it," she said. "Either you could have tables set up at the GSU or walk around holding signs to get attention. Just because we as a society right now have so much flashing through our newsfeed, I don't think just that hashtag is going to cut it."
Collymore-Henry said moving forward, CGSA hopes to host events that encourage more schools to join the This Is Not OK movement and help educate students.
"We want to have a TINO [This Is Not OK] gathering in the near future in February or March," she said. "We want to have another culminating event in the spring that promotes broader conversation between various related organizations."
Correction: The article previously stated that CGSA and SARP do not work together and included a misplaced quote for Maureen Mahoney. The article has been edited to reflect this change.