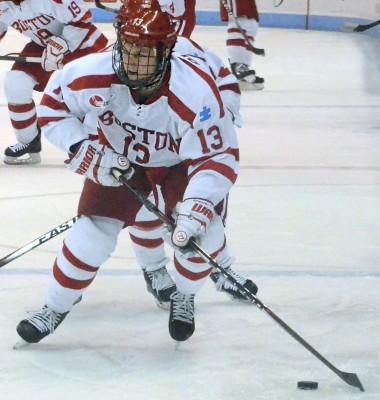 When the No. 3 Boston University men's hockey team found itself on the losing side of a 4-2 game against then-No. 17 Boston College Jan. 22, there was no denying the team played flat and the defeat was disheartening.
Two days later, when BU fell behind by two goals to then-No. 6 University of Massachusetts Lowell, it appeared as if the Terriers might still have the rivalry loss fresh on their minds and fall victim for a second consecutive game to a top-20 Hockey East foe.
But as head coach David Quinn has said a few times over the last week, the Terriers have proven to be resilient.
On the strength of a three-goal comeback, the Terriers (13-4-4, 8-2-2 Hockey East) clawed their way to a 4-3, overtime victory over Lowell (15-5-3, 8-2-2 Hockey East).
"I think it's a reflection of our mental toughness and our resiliency because anyone who's been involved in the BU-BC rivalry knows how difficult the next game can be, especially after you lose," Quinn said. "And then we had got the challenge of playing Lowell, who'd been in first place all year and come back in the fashion that we came back in and play the way did. I thought we played real hard."
But those last two games won't be the last time this team will be tested. In fact, this weekend's slate of games against No. 12 University of Vermont gives Quinn's bunch ample chance to not only prove its toughness, but to pad its lead atop the conference standings.
"They've been playing well for a year and half now," Quinn said of the Catamounts (15-6-2, 7-4-1 Hockey East). "Every game is tough in this league, and if we can have some of the success we've had on the road this year, I like the way we faced adversity on the road and we seem to thrive on that.
"But we're going to need to be at our best if we're going to have a chance to win either game."
For the Terriers to continue to play their best, they'll look to keep up a similar level of offensive production. Over the last three games, Quinn has adjusted the lines a bit, first moving senior assistant captain Evan Rodrigues to the first unit and junior winger Ahti Oksanen to the second during a Jan. 10 game at the University of Wisconsin. Against the River Hawks, BU made more adjustments, as freshman forward Nikolas Olsson stepped up to join Oksanen on the second line.
Although it is a small sample size, the Terriers have averaged four goals per game during the three-game span of mixing and matching. Quinn said the fresh offensive combinations will only improve as the season wears on.
"I like the balance on all of our lines," Quinn said. "That's probably our best lineup so far. It may take a little bit more time for some chemistry to evolve, but there are a lot of things I like. Over time, these guys will gel a little bit more and find a little bit more familiarity with each other, and we'll be in a great position."
On the other side, Vermont's offense, which ranks fifth in the conference at 2.96 goals per game, has nine players that have scored at least 10 points this season. Defenseman Michael Paliotta has led the way with 21 points, while forward — and 2013-14 Hockey East Rookie of the Year — Mario Puskarich has 20 points to his name.
But the real strength of the Catamounts comes from its defense and goaltending. With Paliotta and former Terrier defenseman Alexx Privitera anchoring the blue line, Vermont has allowed the fewest goals per game in Hockey East (1.78) and also boasts the best penalty kill in the conference at 92.9 percent.
When pucks do reach the net, goaltenders Mike Santaguida and Brody Hoffman have been nothing short of impressive. The formidable duo has posted some of the best marks in Hockey East this season. Santaguida leads all Hockey East goaltenders in save percentage (.944) and goals-against average (1.51), and Hoffman ranks fourth and eighth in those categories, respectively.
To counter such a stout defense, Quinn said the Terriers won't employ any new strategy. The key will be sticking to the basics that got the team to this point in the year.
"The problem with this game at times is it's hard to believe how simple it is," Quinn said.
"We've just got to move the puck quickly, beat people off walls, be physical around the puck, get to the net front, shoot the puck quickly.
"That's how you handle anybody's defense."
Other Notes
Quinn said junior goaltender Matt O'Connor will get the start for the first game of the weekend series … Freshman forward Jack Eichel's 1.70 points per game is still the best in the nation … Friday's game marks BU's first game at Vermont since Nov. 16, 2012, a 6-2 Terrier win.