A person can be visually impaired yet still clearly hear birds singing in the morning. Another might not be able to hear the birds, but instead see the change of a season reflected in a tree's leaves. A person with Alzheimer's disease maintains his or her senses well enough to be able to experience such simple things. However, the loss of memory that comes instead is at best sporadic, unpredictable and downright frightening. The movie "Still Alice" portrays this process vividly. Its title character is an early-onset Alzheimer's patient. Throughout, the audience is left to wonder: What part of herself will Alice lose next, and how long will she still be Alice?
Directed by Richard Glatzer and Wash Westmoreland, "Still Alice" stars Julianne Moore as Dr. Alice Howland, a linguistics professor at Columbia University. Alice credits her success not only to her worldwide-recognized research but also to the fact that she is happily married with three children who genuinely enjoy spending time with her at home.
In that way, Alice is a character who possesses the "everything" life, making her seem intimidating at first. Nonetheless, she is lovable, with little details to humanize her. She always orders the original with only blueberries and coconut at Pinkberry. She wears a necklace chain with a butterfly pendant — a gift from her mother — because she was fascinated with the creature's beautiful yet short lifespan while in elementary school. These very idiosyncrasies make Alice a unique person.
When Alice learns about her Alzheimer's disease, that very realness makes it all too easy for the audience to feel her pain.
One would expect the tone of the movie to go from light to heavy with Alice's diagnosis. With the addition of a somber instrumental every time Alice forgets a simple fact, this is somewhat true. However, the movie still retains its color and warmth. On one hand, from wetting her pants due to forgetting where the bathroom is in her own home to forgetting her youngest daughter's name, Alice's deterioration moves at a rapid pace. On the other, so does the love that her family builds up to cushion Alice's hardship.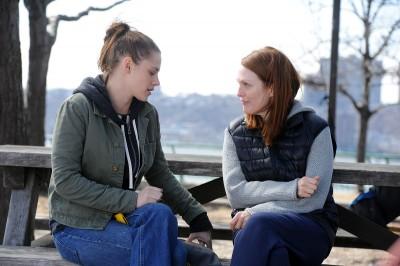 Alice's husband, Dr. John Howland (Alec Baldwin), for example, tries his best to hold her hand throughout the entire process, as do her eldest daughter, Anna (Kate Bosworth) and her only son, Tom (Hunter Parrish). However, the most powerful depiction of support is demonstrated through Alice's relationship with her youngest daughter, Lydia (Kristen Stewart).
The entire cast making up the Howland family puts on a brilliant performance. A strong character, Alice is unashamed to admit her Alzheimer's diagnosis to her husband. Her husband, on the other hand, initially feels she is "being ridiculous," an understandable response that smells like denial. Alice's children react quite accordingly as well. Anna holds herself up like her mother, Tom hardly speaks and Lydia questions. Each character is so much their own personality, making up the true realness of a family.
Alice feels the strongest connection with Lydia, and Stewart does a great job playing the part of both curious and caring. She asks her mother: "What is it like?" Alice's response hits at her disease's bleakness, darkness and inevitable emptiness.
The added tension of Alice's near-disapproval of Lydia's dreams to pursue an acting career, coupled with Lydia's "black sheep" role in the Howland clan, throws up obstacles within their relationship to compound Alice's disease, allowing for the perfect amount of drama in "Still Alice."
At its core, the film is the story of a 50-year-old woman afflicted by an aggressive case of Alzheimer's. Yet it becomes increasingly evident throughout the film that it is more so a story of love and its tenacity.
Complaints to make about the movie are little to none. Every scene is heart wrenching and capturing. Glatzer and Westmoreland, along with the stellar cast, are to be congratulated for an excellent and heartfelt film to start off 2015. "Still Alice" is a difficult film to watch, but one very easy to fall in love with.