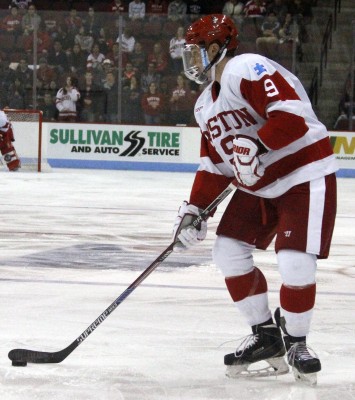 BURLINGTON, Vermont — The No. 3 Boston University men's hockey team had been there before. Down to the No. 12 University of Vermont with under 2:30 remaining in regulation on Saturday, BU was on the verge of a loss.
That was until senior assistant captain Evan Rodrigues salvaged overtime when he skated up the ice for an unassisted tally with 2:18 remaining. Freshman forward Jack Eichel then redirected a shot from Rodrigues with 2:04 remaining in overtime to give the Terriers (15-4-4, 10-2-2 Hockey East) a 2-1 win over the Catamounts (15-8-2, 7-6-1) at Gutterson Fieldhouse.
For Eichel, it was his third overtime winner of the season and his second in three games, still making him the only Terrier to score in extra time this season. Rodrigues' helper marked his fifth game-winning assist this year — tied with Eichel for most on the team.
And for BU, it was the ninth time this season it has tied or taken the lead in the third period.
"It seems like we've had these types of conversations before throughout the season," said BU head coach David Quinn following the win. "We're down in the third, and find a way to tie it and get a big goal from Jack in overtime."
Behind the late goals and a staunch performance from junior goaltender Matt O'Connor (31 saves), the Terriers were able to earn their third straight win, and a weekend sweep over Vermont after BU's 4-2 win Friday night.
"Boy, we did a lot of good things tonight," Quinn said. "And that's a very good team we beat. We need a little bit of luck and we got some great goaltending, they had some great goaltending. It was a heck of a hockey game, and to come up here and to get four points is just really a great trip."
"Huge, huge," Rodrigues said about the wins. "We almost thought it wasn't going to come. I think to sweep a weekend in Hockey East is one of the hardest things to do and it showed obviously until the last five minutes or so.
"I think it just builds our confidence and lets us know how good we are."
Vermont struck first, with a wrister by captain Mike Paliotta from the top of the point that beat O'Connor glove side two minutes into the second period. That would be the only goal that O'Connor allowed in the game.
BU had a number of opportunities to take the lead early on, including a stifling six shots on net during a power play midway through the first period. Vermont goaltender Mike Santaguida stood on his head to keep any attempts from crossing the goal line.
The Terriers also had their share of other late chances to take the lead sooner. Freshman defenseman Brandon Hickey had a shot with about seven minutes remaining in the game that just rang off Santaguida's pads. When Vermont forward Mario Puskarich was sent to the box with about 6:30 remaining, giving the Terriers a late power play opportunity, they were unable to convert, with the only prime chances coming from Eichel's wrister and a shot attempt from senior assistant captain Cason Hohmann.
But better late than never. With the late goal from Rodrigues and the overtime tally from Eichel, that all mattered in the end for the Terriers was the 'W' on the schedule.
The key to holding on for these late victories? Trust.
"It's just confidence," Rodrigues said. "Quinn always says it. You look around the room and from top to bottom, you believe in the guys that are sitting next to you, and I think that confidence builds throughout the game.
"We've done it time and time again … Keep pressing, keep pressing, it will come. And it did today."
Other notes:
The Terriers played without their biggest body on defense, 6-foot-5 sophomore Doyle Somerby, who was suspended by the league after he was called for an interference penalty on Friday … With his goal and assist Saturday, Rodrigues extended his point streak to eight consecutive games … BU's victory and the University of Massachusetts Lowell's loss to Providence College on Saturday, the first-place Terriers now have a four-point lead in the Hockey East standings.