The Massachusetts Bay Transportation Authority's late-night service program may be in jeopardy due to a lack of corporate sponsorship, keeping the revenue from being substantial enough to support the services.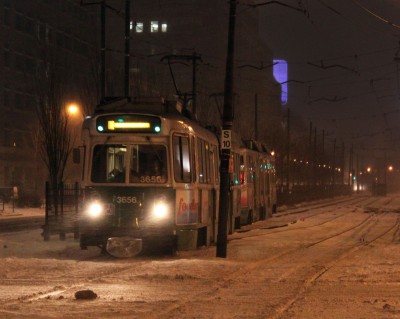 The one-year pilot program is costing $13 million to operate, said Joe Pesaturo, spokesman for the MBTA. The program, which was announced by then-Massachusetts Gov. Deval Patrick in December 2013 and launched in March 2014, extended the MBTA services 90 minutes longer on all subway and Key Bus Routes, The Daily Free Press reported March 3, 2014.
"From day one, the MBTA has said that the service's performance will be monitored and evaluated over the course of the pilot program, which runs through the last weekend of March," Pesaturo said in an email statement. "No decisions have been made pertaining to the service's future following the pilot program."
The MBTA is welcoming ideas for raising revenue to continue the late-night service, he said.
"Like every public transportation system in the world, the MBTA is always seeking to increase ridership on the services it offers," said Pesaturo.
Boston Mayor Martin Walsh pointed to the lost gas tax as a source of decreased revenue to fund the late-night service in an email statement.
"Access to extended late night hours on the MBTA benefits a large cross section of people living and working in the city of Boston — from low wage workers to young professionals to members of the innovation economy," Walsh said. "Losing the revenue from the gas tax could unfortunately put crucial services and projects like late night T service on hold."
Walsh said he hopes the service will continue despite the uncertainties surrounding it.
"I am hopeful that the state will be able to find the revenue to maintain this service that has already benefited so many of our residents, businesses and visitors," he said.
Randall Ellis, an economics professor in Boston University's College of Arts and Sciences, said the issue with revenue for the program is not surprising from an economic perspective.
"It's not a surprise that businesses weren't willing to step forward and volunteer extra funds," Ellis said.
He said firms have an incentive to employ a principle known as free-riding to the situation.
"They would rather everyone else pay for the subway, so they get to enjoy the benefits for free," Ellis said. "This is a common problem for public goods, that when you offer something like a park, everyone else wants someone else to pay for it, so they don't have to contribute."
The MBTA should instead, Ellis said, look to general revenues or tax revenues for a consistent source of funding.
Another issue contributing to a lack of funding is government regulation of closing hours of bars and clubs throughout the city.
"Unless they change their regulation of closing hours for lots of bars and clubs, then these late subway rides are not as valuable," Ellis said. "Until there are more of them staying open late, then there just aren't going to be a huge number of people who will be out late."
Several residents said late-night T service is a good program, even though they'd never used it themselves.
Trena Melton, 24, of Jamaica Plain, said the program is great, and despite some concern, late night T won't hurt cab drivers' business.
"It's best for other people because I take cabs personally," she said. "I don't think it will hurt the cab drivers though because there are so many people out at that time, and someone's always trying to catch a cab."
Ashton McLemore, 24, of South Boston, said late-night T service is a necessary program in the city.
"I don't take the T that late usually, but it's a great program," he said. "There are definitely people that need to take the T at 2 a.m."