Although the Boston University Charles River and Medical Campuses were closed Tuesday due to Winter Storm Juno, employees in many university departments were still required to go to work. As a result, the university's administration looked for ways to ease the stress of the employees.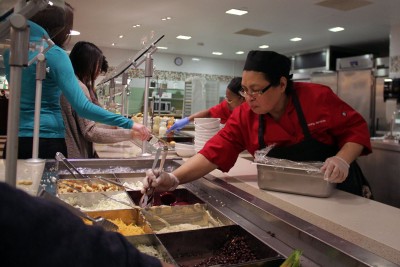 Some student employees were also required to go to work for their shifts, even though the campus was otherwise closed.
Melissa Hunter, a junior in the College of Communication and an employee at the Fresh Food Co. at West Campus, felt it was important for student dining employees to be at work despite the weather.
"People have to eat," Hunter said. "Employees alone won't be efficient, and I do enjoy working at the dining hall."
Ana Solis, 43, also an employee at West's dining hall, said employees find it difficult to work well without the help of their student employees.
"There's too much work," she said. "We need help."
Full-time and student employees were required to serve in the West Campus dining hall from 9 a.m. to 8 p.m. on Tuesday, opening later and closing earlier than the normal schedule.
The school also provided accommodations for employees, to ensure that their commute was safe and comfortable. Workers who live far from campus were given a place to stay, and dining hall managers were sent to pick up the employees from their residences and hotels.
Solis, who lives in Allston, said she did not get any hotel accommodation, but she was picked up by one of the managers.
Ana said the managers "pick[ed] me up just for today, and I feel thankful that I don't have to walk to work."
For Yesenia Escobar, 27 , a West Campus dining hall employee from East Boston, her Monday and Tuesday night hotel stay was covered by the University.
"I stayed at the Hotel Commonwealth down by Kenmore Square," she said.
Cecil Thomas, 60, a cook in the dining hall, stayed at the Hyatt Regency Hotel in Cambridge and drove himself to work. Aramark Food Service, his employer, provided for his hotel stay.
George Boag, 54, a dorm security guard who lives in Dracut, did not receive any accommodation. Nevertheless, Boag said he's used to coming to work during snowstorms.
"It goes with the job. Today's a lot more casual too, not many people signing in and out," Boag said. "I drove from my father's house last night in Somerville to make my travel closer."
Despite the weather, employees did their best to make the most of it, said Escobar, who has worked in the dining hall for 14 years. She said she likes to "have some fun" while working.
Thomas said "it's okay" and "it's not a big deal" having to come to work on a snowstorm.
"I've worked here for thirty years, and it's been great. The environment is really nice," Thomas said.
With employees still coming in and food services running, several students found it difficult to say whether it's good or bad to have employees travel to work under extreme weather conditions.
Xajavion Seabrum, a sophomore in CAS, said having the student employees at work is robbing them of their free time.
"I know some who are even working a double shift to cover someone else," he said. "Some are actually looking forward to this snow day so they can do some extra work."
Nevertheless, several students said they are impressed by the school's flexibility in offering accommodations to their employees.
Aisha Satrio, a freshman in COM, said it's a generous move from the university.
"That way, they [employees] don't have to go to such great measures to come to work," she said.
Isabel Jimenez , a freshman in the College of Arts and Sciences, said there are two sides to the coin when deciding whether to require employees to work in a snowstorm.
"Obviously, we do need food," she said, "but at the same time, it's dangerous to have people come in."