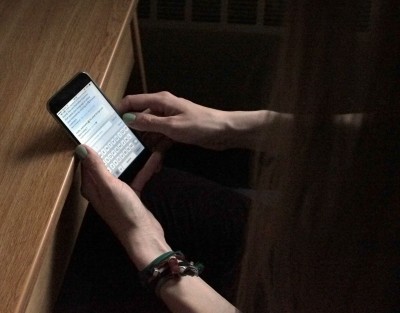 Asked about 7 Cups of Tea, the emotional support app he conceived and helped develop, Glen Moriarty shared a letter he received from a student he called "Lindsey."
"You don't fix any of my problems," the letter said. "Since becoming a member, you have solved exactly zero of my problems, and yet, my life has drastically changed."
Offering access to trained and anonymous listeners offering emotional support, 7 Cups of Tea is an application designed to help users connect with an understanding and helpful community, filtered for age, issue, language or country. It doesn't solve problems, but it hears them.
"One behavior that hasn't yet moved online is listening," said Moriarty, founder of 7 Cups of Tea. "If you have good friends or family members you can trust, then you are golden. If you don't, then you typically have to go to therapy to have someone listen to you."
That, it turns out, is something a lot of young people are unwilling to do. Nearly half of all American teenagers report that they either aren't doing enough to manage their stress, or aren't sure if they should be doing more, according to the American Psychological Association. Only 50 percent felt comfortable in their abilities to handle their stress.
Married to a therapist, Moriarty had a reliable source of support, but that spurred him to wonder what others do if they don't have resources to use or people to go to.
"Therapy can be intimidating, inconvenient and expensive," he said. "I thought we should create an alternative."
Over the year and a half since its inception, he said, the service now hosts 85,000 conversations a week, using over 70,000 listeners from 150 countries and over 130 languages.
Now, he said, comes the next step. This week, the service plans to introduce a "Growth Plan" feature that, in Moriarty's words, "will allow people to take small simple steps to help them better cope with whatever they might be struggling with." The idea is to hear issues, for one, but now to change how people cope with them, as well.
"I believe campuses are full of people who are going through big changes and totally new experiences in life that might make them doubt if they're making the right decision or following the right path," said a 7 Cups of Tea listener, who could not be identified because of the app's anonymity. "That's why we're here to help people. Having someone to listen to you while you're obligated to organize your thoughts in order to make yourself clear is essential to a healthy and manageable life as a student."
There are also a multitude of self-help guides for different types of emotional issues ranging from panic attacks to surviving break ups. However, while the service puts help directly in the hands of those who need it, some warn that, if an issue is serious enough, it's best to find a professional.
"There is a lot of value in talking to an empathetic stranger," said Jade Wu, a clinical psychology doctoral student in the College of Arts and Sciences. "However, I would caution that although the trained listeners on the app receive training, they are not licensed mental health providers and do not have all the training that professional psychologists and counselors receive for dealing with crises and psychiatric symptoms."
Moriarty stands by its simplicity, though, and said that it's making a difference where it can.
"People in general are going through a lot these days," he said. "They just need a safe place to vent."
That's the best he can hope for.
"So, know that even though you didn't fix any problems," "Lindsey" writes, ending her letter, "you made them all bearable by offering your compassion."