Brigham and Women's Hospital found itself at the center of a tragedy on Jan. 20 when a man, later identified as Stephen Pasceri, 55, of Millbury, walked into the hospital's Carl J. and Ruth Shapiro Center, asked for cardiovascular surgeon Michael Davidson by name, and shot the doctor twice before shooting and killing himself in an exam room, The Daily Free Press reported.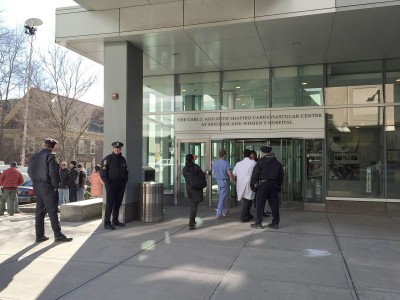 Davidson died as a result of his injuries later that night, the FreeP reported.
The incident raised questions about safety in hospitals and the ability of hospital security to deal with active-shooter situations.
"Hospitals prepare in many ways by having good policies and procedures, training and awareness programs, active shooter simulations and drills, good technology and very good security departments," said Bonnie Michelman , director of Massachusetts General Hospital  Police, Security and Outside Services.
Michelman said hospitals, including Massachusetts General Hospital, Brigham and Women's partner hospital, regularly prepare for incidents such as shootings.
"They have literally thousands and thousands of people in there every day, but on the other hand, health care is a high-stress environment, and we always have to be cognizant and aware of violence that could occur," she said.
Despite intense preparation, Michelman said not all emergencies can be avoided.
"If there is a known threat that is known in advance, actions can be taken to mitigate that threat and to do some things around that, but there are times when the threat is not predicted or not anticipated," she said.
While she said she could not speak for Brigham and Women's, Michelman said that when an incident occurs, the hospital will take action.
"I'm sure that with any scenario, all of us review what happened and if there are any modifications needed, they would be made," she said.
While the security procedures that are taken are comprehensive and effective, they were not always that way, Michelman said.
"The whole industry has become much more sophisticated in protecting the environment than it ever was before," she said. "I've been in health care security for many years, and I can tell you it is far more better protected than it was ten or fifteen years ago."
No matter what, Michelman said, a hospital is an open environment and can't be locked down.
"A hospital is an open 24-hour-per-day facility usually with dozens of doors and thousands and thousands of people coming in and out daily, so it's not a fortress. It can't be secured like a fortress can unfortunately," she said.
In a Jan. 20 press conference following the shooting, Boston Police Commissioner William Evans praised the efforts of Brigham and Women's in responding to the incident and pointed to the numerous trainings the hospital had performed.
"Within the last year, we've done several trainings here on this very scenario, an active shooter scenario," he said in the press conference. "When we came up to this hospital, everyone was doing exactly what we trained for. That's why we do this training, and I have to commend their response."
Several residents said that more security in hospitals could not hurt, but this situation was an unusual circumstance.
Elmar Mizazade , 47, of Boston, said there should be more security in hospitals due to the high amount of terrorist activity.
"There should be more security in hospitals, because of situations involving terrorist acts today. I know the incident at the hospital was different, the man had a connection to the doctor through his mother, but it's still very bad," he said in Russian. "If there is enough security, it is … good for doctors and everyday people like me."
Ben McNei l, 28, of Roxbury, said the shooting may not be an isolated incident.
"I don't know if it was just an isolated freak accident or if it's actually endemic of a real situation," he said. "Anytime an innocent life is taken, you're shocked and saddened, and your heart goes out to the family."