A one-goal lead in hand to start the third period coupled with a smart 20 minutes would have probably been enough to for the No. 2 Boston University men's hockey to come out victorious over the University of Massachusetts Amherst.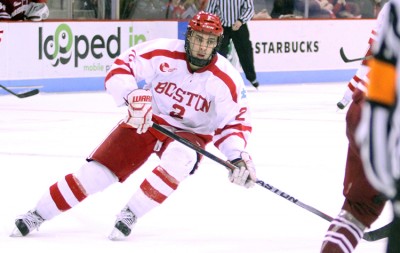 Thirty-five seconds into the period all hope was shattered for a clean period.
Senior assistant captain Evan Rodrigues skated hard into the corner and was called for a five-minute major boarding. Instead of a disciplined frame to keep UMass out of the game, BU allowed the Minutemen to come right back with two goals. The complexion of the game had changed.
By the time junior winger Ahti Oksanen raised his arms in celebration after his third goal of the game, though, the Rodrigues penalty was just a mere footnote. For the second time this season against the Minutemen, BU scored six times in the third, five of which came on the power-play, giving BU (16-4-4, 11-2-2 Hockey East) a 9-5 victory over UMass (8-17-1, 3-12-1).
To go along with Oksanen's hat trick, freshman center Jack Eichel and freshman defenseman Brandon Hickey each netted two of their own, while junior forward Danny O'Regan and junior captain Matt Grzelcyk both tallied one. Despite compiling 27 total penalty minutes, the Terriers ended the night with six power-play goals of their own.
For BU head coach David Quinn, a back-and-forth game where the teams traded nine goals was fun to watch. Coaching through it, however, wasn't as enjoyable at times.
"Surely an entertaining game," said BU head coach David Quinn. "Not an easy game to coach from either end of it. Obviously penalties were a major problem for us tonight — we just can't take that many penalties and continue to expect to have success, especially against a power play like that.
"Love scoring nine, hate giving up five."
BU's effective man-advantage unit got off to a successful start 2:03 into the game. Hickey took the puck from the right circle and wristed it cleanly past netminder Henry Dill. A little over 11 minutes later, O'Regan finished off a tic-tac-toe play in the goal crease, pushing BU's lead to two goals.
After O'Regan's tally, the ice tilted in the other direction.
Forward Dominic Trento took advantage of BU defensive-zone turnover and potted the Minutemen's first goal of the evening by freshman goalie Connor LaCouvee at 14:21 of the first. Oksanen put BU back up by two to start the second period with a goal from an odd angle, although that lead was short-lived. The Terriers racked up the penalty minutes,  including the major, and the Minutemen scored four of the next five goals. When freshman Riley McDougall scored with 11:32 left in the third stanza, UMass held a one-goal lead.
"I thought after we made it 2-0, we had chances to make it three, four maybe," Quinn said. "We didn't capitalize and they get gift and they make it 2-1, and all of sudden they're a little recharged and the whole complexion of the game changed."
But as the Terriers have shown all year, third period comebacks are commonplace.
Eichel tied the game up with a powerful one-timer from the point on the man advantage at 12:39 in the period. About a minute later, it was Grzelcyk celebrating his own power-play goal — his first of the year — from almost the same spot, as the Terriers took the lead right back.
While he took that costly penalty at the start of the third, Rodrigues more than made up for that mistake with his play in the offensive zone. Not only did he assist on both the game-tying and winning goals, but the Ontario native ended the game with six helpers, tying a program record.
"Yeah, and it would've been seven if that goal if that goal had counted," Quinn said referring to a disallowed goal from senior assistant captain Cason Hohmann.
Eichel and Oksanen then both added goals to their multi-goal nights, which gave BU some insurance. For Oksanen, his first-career hat trick in college was special in spite of that fact that he wouldn't take full credit for either of his first two scores.
"It's a great feeling to get three goals," Oksanen said. "The first one was maybe a bit lucky. It was really lucky. The second one, it just somehow bounced in and the last one was a nice pass."
And the way this game ended was much like it started — a Hickey power-play goal, BU's ninth score of the game.
"We've been on a good stretch of games here ever since the BC loss and we started off well, got a couple goals in the first period," Rodrigues said. We tried to just stick to our gameplan and continue to do what we've been doing.
"We're obviously happy to come away with the win, but I'd like to be a little more tight checking."