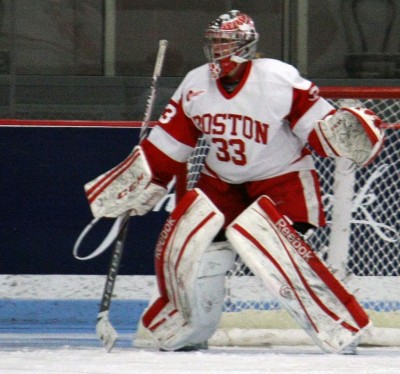 After a whirlwind weekend with back-to-back games against the University of Vermont, the No. 7 Boston University women's hockey team will travel to Storrs, Connecticut for its third matchup of the season against the University of Connecticut.
The Terriers (16-6-2, 11-4 Hockey East) split this past weekend with the Catamounts (11-15-1, 2-12 Hockey East) in an eventful two-game series. Vermont got the best of BU in Saturday's game, and held the Terriers off the scoreboard for the first time all season in a 2-0 win. Despite outshooting the Catamounts 39 to 21, BU was unable to get one past Vermont netminder Madison Litchfield.
However, the story was quite different in Sunday's rematch. Twelve different Terriers registered at least one point against the Catamounts, leading to a 9-2 victory for BU. Freshman forwards Victoria Bach and Rebecca Leslie each tallied a team-leading three points in the game. Junior defenseman Diana Bennett also lit the lamp for her first goal of the season, but the most notable performance had to be from sophomore goaltender Victoria Hanson.
Hanson stopped all fifteen shots she faced through two periods and registered her first collegiate point in the form of an assist on senior captain Marie-Philip Poulin's goal in the second period. After having an incredible game and a standout performance against No.5 Quinnipiac University on Jan. 21, she was named Hockey East Defensive Player of the Week on Monday.
"Any time you get recognized for your performance, then you obviously excelled," said BU coach Brian Durocher. "[Hanson] was very consistent and followed the puck well for both games last week. Herself and [freshman goaltender] Erin [O'Neil] continue to grow and mature. It's great for them and great for our team. The kids and the coaching staff have plenty of confidence in them, but I don't think we've seen anything near their best yet, and I'm excited to see them improve as Division 1 goalies."
Sunday's game also featured an appearance by freshman goalie Mia Becker, the first of her college career. Becker took over from Hanson at the start of the third period, and made a total of nine saves, including one from a penalty shot taken by Catamount forward Brittany Zuback.
Similar to the series against Vermont, the Terriers will once again face another Hockey East opponent this weekend. This time, they will travel to the home of the Huskies (7-14-6, 3-8-3 Hockey East) for a Saturday matinee.
The Huskies have been on what seems like a bit of a skid as of late, winning only one of their last four games. However, the Terriers don't expect to get out of Saturday's game easily.
"We're just trying to keep getting better," Durocher said. "Saturday, we played an outstanding game but came up on the short end. I told the kids, and my coaches feel the same way, that this would be a four game run instead of three out of four. We don't have room for a let down when it comes to hockey games. UConn will be as big of a game on Saturday as the Beanpot will be for these few games at the end of the year. We've got to really stay on track as far as taking it one game at a time."
In their most recent matchup against Providence College, the Huskies found their offensive power and scored four goals throughout three periods. Team-leading goal scorer and senior Emily Snodgrass picked up her 14th goal of the season and her 19th point. Senior Sarah MacDonnell tallied her sixth goal of the season and her team-leading 20th point of the season. Goaltender Annie Belanger made 36 saves against the Friars (6-16-4, 5-8-1 Hockey East) and allowed just one goal for her third win of the season.
"I know they've got some solid players on that team, and they're certainly well-coached," Durocher said. "There's no room for us to take them lightly or to hesitate. Everybody who puts the jersey on come Saturday has got to make sure that they're concentrating and focusing and not just getting off the bus to show up."