The Massachusetts House of Representatives voted in favor of a proposal Thursday to eliminate term limits for the Speaker of the House, a position currently held by Robert DeLeo, who's serving his fourth two-year term as Speaker of the House.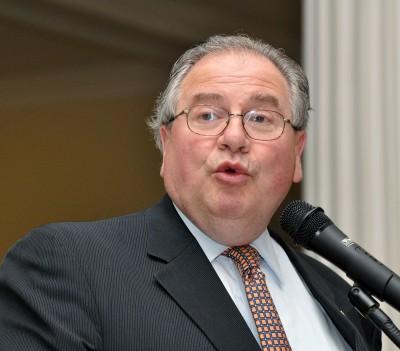 DeLeo, who initially pushed for the enactment of a limit of four two-year terms in 2009, supported the passage of the term limit elimination, which would let him stay in office past when  his fourth-term ends in 2017.
Massachusetts Rep. Stephen DiNatale said the facilitation of change in the House relies on new legislators bringing their own ideas to the floor.
"There should be fresh ideas in the House, and imposing term limits on the Speaker is the only way to ensure that that happens. With all due respect, I don't think anything has changed since 2009," DiNatale said. "You need to maintain an atmosphere of fresh ideas. My opinion isn't directed at his [DeLeo's] leadership, but I think that keeping the same Speaker indeterminably might be good for some but not for all."
House Minority Leader Brad Jones said in a Thursday statement the unlimited terms on the House Speaker may not be as significant an issue as others that currently face the House.
"The members have spoken, and although not everyone may be pleased with the results, it is my hope that we can move beyond this vote and not allow this one issue to distract us from the important legislative agenda and budgetary challenges that lie ahead," Jones said in the statement.
Kenneth Cosgrove , an associate political science professor at Suffolk University, also said the issue of term limits is not as vital an issue in the grand scheme of government.
"I don't think it's that significant to people. It sounds bad but I don't think it is. If the Speaker kept the caucus happy, and they get reelected, that's their job," he said. "Being a speaker is like being a therapist for the caucus. The speaker has to hold it together."
John Portz, a political science professor at Northeastern University, said while he is not in favor of term limits in any capacity, he can see the other side of the argument and understand why the position of Speaker of the House may need some boundaries.
"It's a significant position and near the top in terms of state speakers with the most power," Portz said. "I take the principle that whoever is in that position should be subject to the voters who put them there."
With the amount of power the Speaker has, it could make sense to impose term limits, said Portz, but it would be up to the members of the House to make their opinions heard.
"The speaker assigns people to committees, assigns chairs of committees, controls where your office is, controls your budget. I've heard of cases to the degree where if you want a salary increase, you have to get approval from the speaker's office. There's a frustration on the part of some that it's very difficult to move issues forward. If the speaker doesn't want an issue to come forward, it won't," he said. "Term limits were one of the only ways of controlling that power."
Several residents said they find it strange that DeLeo changed his position on term limits over the past several years.
Emilie Goldman, 19, of Fenway, said an extended term could result in a monopoly on power by one individual.
"I don't know why he [DeLeo] would put in those term limits and then take them away for himself," she said. "I don't think he should be able to do that or else he'll be in office for too long."
Andrea Soto, 19, of Allston, said the election itself is the most important way to ensure a balance of power.
"If he has to be voted into power every time then I don't think it matters that much. It's not like he's going to become a dictator. He still has to keep everyone happy," she said. "It's strange that he'd put in the terms and then take them out, but if everyone voted for them, then it's totally legal and fine."
Anne Kirby, 48, of Jamaica Plain, said regardless of a state's dominant political party, it is imperative to allow a variety of voices in government.
"Keeping a speaker on office for a long time could give way to all sorts of corruption," she said. "It doesn't matter that Massachusetts is always a blue state. What matters is that the power changes hands often enough to have different opinions within the same parties. That way everyone gets their say. I don't follow state politics too closely, but I know that the nature of politics is to keep power changing hands."