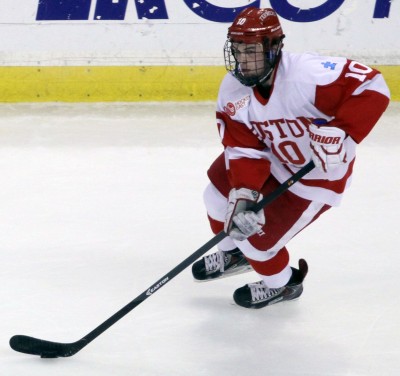 For the generations of collegiate hockey players that have suited up to take the ice at both the Boston Garden and TD Garden, the annual Beanpot Tournament stands as a storied tradition with citywide bragging rights on the line.
For No. 2/3 Boston University men's hockey junior forward Danny O'Regan, it's more of a family affair.
While the Needham native has made a name for himself during his three campaigns with the scarlet and white, another member of the O'Regan clan has also made a name for himself in a rink a little over two miles down the road.
Tommy O'Regan — a senior at No. 4/6 Harvard University — has compiled 35 points in 80 games with the Crimson during his time at the Bright-Landry Hockey Center. Danny may have outpaced his older brother on the stat sheet (89 points in 98 contests), but Tommy and the Crimson have held the advantage whenever BU (16-4-4, 11-2-2 Hockey East) and Harvard have faced off as of late.
Starting with the O'Regans' first meeting on the ice on Jan. 9, 2013, Harvard has posted a 5-0 record against BU, outscoring the Terriers by a 29-17 margin during that stretch.
Now, both brothers will once again compete against each other in the semifinal round of the 63rd Beanpot Tuesday night.
While the Terriers are mostly focused on erasing a five-year Beanpot drought, the opportunity for Danny to finally notch a win against his brother serves as an interesting narrative — one that Danny's teammates are certainly aware of.
"Obviously, he wants to beat his brother, so hopefully we can do that for him," said senior assistant captain Evan Rodrigues. "It's been three years. I think it was my freshman year, when we beat them. We owe these guys big time, and we have to bear down and get it done."
The O'Regan brothers were born into hockey, with both growing up in Berlin whilst their father, Tom O'Regan, played professionally in the Bundesliga hockey league.
Even from a young age, Danny learned how to skate with the help of his father and Tommy — a little under two years his senior. For Danny, his relationship with his brother did not fit the conventional mold usually established between younger and older siblings.
"He was never the mean older brother," O'Regan recalled. "We were always playing street hockey and basketball and mini hockey — whatever it was. We've been best friends since forever, so it's been great to have him around."
After returning to the United States four years after Danny was born, both brothers quickly morphed into noticeable figures around amateur hockey circles in New England.
Tommy became a standout forward at St. Sebastian's School in Needham, posting 68 points in 55 games over his two years before graduating in 2010. Danny eventually transferred to the same school for the 2010-11 season, narrowly missing out on the chance to play on the same team as his brother.
After a year in the United States Hockey League, Tommy joined the Harvard hockey team for the 2011-12 season, with Danny suiting up for his freshman season at BU in 2012-13.
BU was always Danny's top choice in terms of a college destination. After all, his father skated for the Terriers in the 1980s, winning the Beanpot MVP award in 1982 and serving as co-captain for the 1982-83 season.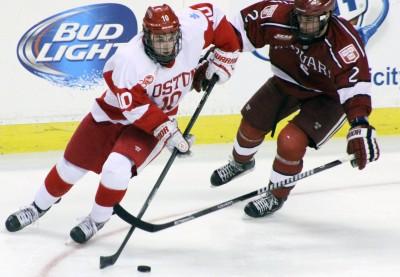 Danny made his presence felt from the moment he joined the Terriers, becoming the first freshman to lead BU in scoring (38 points) since Tony Amonte accomplished the feat in 1989-90.
This season, situated on BU's first line with Rodrigues and freshman center Jack Eichel, O'Regan has once again established himself as a dynamic player in BU's forward corps, tying for the top spot in Hockey East with 17 goals while placing third in the conference in points (29).
"Danny is obviously a very talented and gifted player … There's not much of a dip in his performance. He's pretty consistent," said BU head coach David Quinn. "He's a guy that's improved his shot. He's worked hard at some of his weaknesses, and he's turned himself into one of the better players in college hockey."
Danny's impressive stat sheets might speak for themselves, but the same can't be said of his team's track record against his older brother's squad over the past two-plus years.
Surprisingly enough, the O'Regan's first showdown as college foes in Jan. 2013 served as the first time both brothers played against one another in a game. Both did not disappoint, tallying three points each in the match, but the Crimson eventually secured the 6-5 overtime win.
Since then, the Crimson have had their way with the Terriers, winning the following four meetings, including twice in Beanpot consolation games.
While Tommy has managed to compile a 5-0 line against his brother in head-to-head matchups, Danny acknowledged that his brother has mostly avoided any opportunities to rub salt in the wound.
"He's been good about it," O'Regan said. "I still haven't beaten him, but he hasn't let me know about it too many times. So I'm thankful for that."
Now entering his third Beanpot, Danny might have his best shot yet of finally handing his brother a loss, and more importantly, helping his team hoist the Beanpot for the 30th time in program history.
While Danny said it is hard to tune out the fact that he might be playing against his brother for perhaps the last time in college, he said he is remaining focused on the task at hand, bringing the Beanpot trophy back to Commonwealth Avenue.
"We have to keep playing like we've been playing all year — fast, hard hockey," O'Regan said. "Keeping plays simple and getting out to a good start … We have to get out to a good start, but we know if we do get down, we've got the resilience to come back.
"I'm going into it like it's any other game, because I'm just trying to win a Beanpot. If I have to take down my brother, I'm going to have to."