Cars parked on the even side of Bay State Road on Boston University's Charles River Campus were towed by Boston Police Tuesday evening due to traffic control issues, according to an email from the BU Alert Service.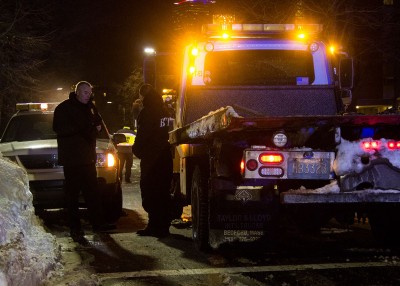 The email was sent out at 6:46 p.m. on Tuesday and warned that "vehicles should be moved immediately."
Several students said that while they thought the cars didn't all belong to BU students, the warning could have been better broadcast to students.
Quinn Rodriguez, a senior in the School of Management, said a BU Emergency Alert was not enough of a warning for the owners of the cars.
"They should have given people some kind of warning," she said. "I'm sure all these people don't live on BU's campus."
Bidemi Palmer, a freshman in SMG, said the short notice was unfair considering the unavoidable circumstances.
"It just seems kind of unfair," she said. "The snow is here. What else can you do? I don't think it's fair. At least a couple days notice if they're going to do something like this."
George Bill, a sophomore in the College of Engineering, said he'd like to think the warning focused on more than just than the BU community.
"I know a few international kids who own their own cars, but I feel like it's more people who live here. I'm sure if it's BPD, it was more than BU students that got the email, so they could've gone out a few hours ago to get their car."