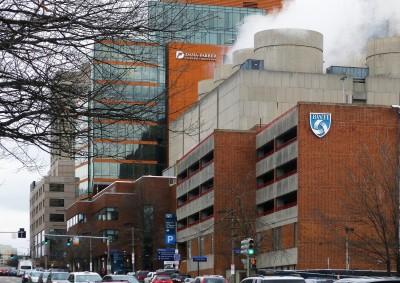 Retail stores such as Brandy Melville are selling "one size fits all" clothing, but recent actions by the U.S. government have shown the adage does not apply to medical treatments. Friday, U.S. President Barack Obama unveiled the Precision Medicine Initiative to facilitate research on tailoring treatments to an individual's genes.
The plan is as follows: $215 million of the 2016 Budget will be invested in the National Institutes of Health, the National Cancer Institute, the U.S. Food and Drug Administration and the Office of the National Coordinator for Health Information Technology. The investments will support research and understanding of precision medicine, in addition to the development of databases and interoperability standards, according to a Friday press release from The White House Office of the Press Secretary.
Leading institutions and researchers in Boston would be among those to benefit from such funding, said Edward J. Benz, Jr., president and CEO of the Dana-Farber Cancer Institute.
"The Precision Medicine Initiative is a good start, and the emphasis on cancer medicine is important for our work," he said.
The initiative will be particularly helpful for diseases strongly caused by genetic predisposition, said Kenneth Albrecht, assistant professor of medicine at the Boston University School of Medicine.
"Precision medicine, at least at the beginning, is likely to rely heavily on genomics," he said. "The environmental component is harder to study because it is harder to control, of course. You can't control what humans' environments are like, so that gets a little bit trickier."
Katherine Janeway, senior attending physician at Dana-Farber and Boston Children's Hospital, points to the initiative's applications in fighting childhood cancer.
"There are a number of novel targeted cancer therapies, or treatments tailored to gene abnormalities found in an individual patient's cancer. But, for most of the targeted therapies, we don't know what dose to use in children, and we don't know which children with cancer will benefit most from receiving them," she said. "The proposed investment would allow us to determine which of these targeted therapies are most important to study in children with cancer."
Partnering with Brigham and Women's Hospital, Dana-Farber has already been investigating the usage of genetic profiles for treatment through a program called Profile, said Ellen Berlin, director of media relations at Dana-Farber.
"We have a project that was started in 2011, and it was launched by research scientists here and also at Brigham and Women's Hospital. And basically, the scientists have been analyzing the DNA and tumor tissue of patients, Dana-Farber and Brigham and Women patients, to treat all different kinds of cancer," she said. "Since that time, more than 31,000 patients have consented to have their tumor tissue analyzed. We [added] 400 each month to the database. The database provides information to help treat cancers."
With 5,000 genetic profiles in the system, Berlin said that Dana-Farber and the City of Boston have a leadership role in precision medicine.
One of these leaders is BU, home of the Framingham Heart Study, one of the nation's longest-running cardiovascular disease studies. The Framingham Heart Study is a precursor to current precision medicine programs, Albrecht said.
"It [the study] has looked at multiple generations of families that live in Framingham, and they have done a large number of genetic studies, or genetic epidemiological studies to look at things like heart disease," he said. "They've got a large database of people that have been followed over a number of years, and they have a number of measures because these people pretty much came in for physicals once a year, and they would have blood-work and body mass index and things like that."
Albrecht directs the BU Genome Science Institute, an institute that runs seminar series and workshops, in addition to facilitating genetics and genomics research. He said BU researchers have been thinking of ways to participate in the Precision Medicine Initiative.
"The Genome Science Institute will likely be one of many different entities, research centers that will try to put together a group of people to try to respond to this sort of initiative," he said. "I think there's already been some talk of incorporating existing studies like the Framingham Heart Study into precision medicine … Boston University is very well-positioned to take advantage of this initiative."
Though this initiative has been well-received by the medical research community, dissenters have raised concerns about patient privacy and protection, something Albrecht and his team understand.
"Patient privacy is definitely something we are all aware of," he said. "It is something to be concerned about because there's actually an argument that if you make a person's genome sequence available, in some ways, you can figure out who that person is. It's like CSI, right?"
Privacy concerns aside, Albrecht said he remains optimistic about the development of precision medicine.
"The future of medicine is precision medicine," he said. "So I think that it is an incredibly promising future."