LOWELL — There isn't much that hasn't already been said about senior left wing Evan Rodrigues over the past several weeks. The assistant captain of the No. 2/3 Boston University men's hockey team, in the midst of one of the hottest scoring streaks in the nation, has been lauded by BU head coach David Quinn continually for his intelligence and skill.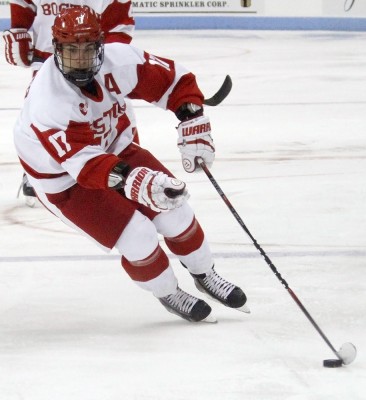 The compliments will have to keep coming for Rodrigues. With his first career hat trick and an assist for his 100th career point in BU's 5-2 win over the No. 11/12 University of Massachusetts Lowell on Friday, Rodrigues continues to climb up the national scoring leaderboards.
Entering Friday's game, Rodrigues had five multi-goal games in his career. He secured his sixth multi-goal game 8:16 into the first period, and finally notched his first career three-goal game at the 18:09 mark of the second period.
He is the third player for BU (18-4-4, 12-2-2 Hockey East) to record a hat trick this season, joining junior right wing Danny O'Regan and junior left wing Ahti Oksanen.
Twenty-seven of Rodrigues' 100 career points have come in the past 11 games, in which Rodrigues has recorded at least one point in every game. He has had six straight games with multiple points, and 12 of his points have come in the past three games.
As a result of his recent performance, Rodrigues was named Hockey East Player of the Month for January. Rodrigues wasn't about to give himself all of the credit, though. Instead, he praised his two linemates — freshman center Jack Eichel and O'Regan — for his scoring outburst.
"I think I'm playing with two great players … I'm just trying to continue to work hard not getting complacent," Rodrigues said. "Up until now they've been the ones putting the puck in the net and I've just been feeding them, kind of work hard to get open for them, get the puck to them, I guess today I got the luck of the draw, got open and things seemed to find the back of the net for me."
Rodrigues' most successful season prior to his senior year came during his sophomore year, when he recorded 34 points on 14 goals and 20 assists. His junior season dropped off with just 14 total points, but he's nearly tripled that in his standout senior year.
The four points on Friday tied Rodrigues with Union College's Mike Vecchione for third place in the nation in scoring, with 40 points on the year (12 goals, 28 assists). He trails his linemate Eichel (43 points) and Union's Daniel Ciampini (41 points). He is also tied with Eichel for the national lead in assists.
Eichel, who had three assists on Friday night, applauded his veteran linemate's impact on the line's scoring.
"You guys see us play, it speaks for itself," Eichel said. "He's so skilled, he's so smart and he works so hard, so if you put these three things together, he's obviously tearing it up for a reason. He makes the players around him so much better. He makes me and Danny — he gives us a lot of credit — he makes a lot of great passes, finishes at the net, he's a great player and I really enjoy playing with him."
And the compliments kept flowing from Quinn, too.
"I've seen it ever since I got to BU," Quinn said. "He's just an incredibly smart player, works hard, competes, has a great skill set and he can skate.
With a laugh, Quinn added, "Other than that, he can't really do too much."