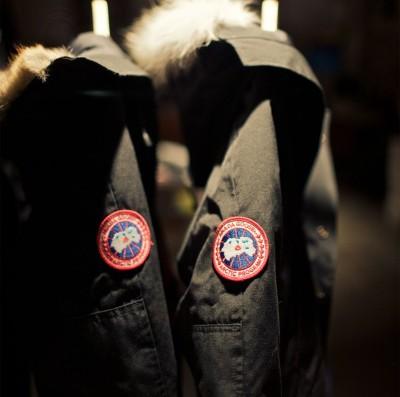 At Boston University, duck may be the new goose.
Canada Goose, a brand of extreme weather outerwear, has rapidly gained popularity within the past year, despite the brand's high prices. The most commonly seen Canada Goose parkas range from around $600 to $1,200. With a price tag that high, in Cody Lewis's eyes, owning a Canada Goose jacket is just as much a statement of privilege as it is a way to keep warm.
Now Lewis, a junior in the College of Fine Arts, has created a way to attain the coveted Canada Goose look for much, much less.
"[Canada Goose parkas] are the fancy, rich jackets that nobody can get," Lewis said. "Every time I noticed one, I'd be like, 'Oh, you got a lot of money.'"
While the original intent of owning a Canada Goose parka may have been to simply survive the winter in style and warmth, Lewis said, the mark these jackets are leaving is quickly evolving into a statement about wealth. He recalled the first time he noticed the trademarked parkas, with their "Canada Goose Arctic Program" patches, while walking to class.
"The patch is on the left shoulder, and I [was] on the right side of the street … and all I [saw were] bright red, white and blue patches," Lewis said.
This made Lewis want not a Canada Goose jacket, but his own patch to put on his regular jacket as a joke. However, he couldn't find any patches, so Lewis decided to make his own, coined America Duck.
The patches, intended to parody and combat brand exclusivity, were supported through a Kickstarter campaign Lewis started in mid-January. With patches costing a backer $8 a piece, America Duck had to almost exactly imitate the Canada Goose logo, but be different enough to avoid copyright infringement. The colors, patch size and embroidery are all the same between both brands. The name and image differ.
As of Tuesday, Lewis estimated that he is sending out approximately 40 to 50 patches, both sew-on and iron-on, to 43 backers. Lyndsey King, a sophomore in the College of Arts and Sciences, hasn't bought in, but still thinks the jackets in question are both too expensive and unnecessary.
"Most people make it through the winter in a coat that's a fraction of the cost just fine," King said. "I would suspect the trend speaks more to the look of the $800-arm patch than actual warmth."
King said what makes the campaign so funny is Canada Goose's popularity, despite its inflated price.
"It calls attention to something that seems honestly pretty crazy in a humorous way," King said.
However, Lewis said his intention was not to create a business selling patches. The goal was to make something he wanted for himself and possibly share a few along the way.
"Through Kickstarter, nobody is buying [the patches]," Lewis said. "They're giving money to fund myself … People are pledging [money] to me, and I'm giving the patches. I don't want to start selling them."
With the end of the campaign approaching on Thursday at 5 p.m., Lewis said he has a more important mission in mind.
Suggested by a Kickstarter backer, any pledge of $40 or more will now donate a winter coat and a patch to a Boston homeless shelter. Supporters can pledge money directly toward jackets, and any remaining money from a pledge will automatically go toward the cause.
This portion of the campaign, Lewis said, provides a way to give brand exclusivity to everybody, not just the wealthy.
"I'm providing the one thing that makes you so powerful to everybody," Lewis said. "Putting the patches on the jackets [and donating them] is the ultimate statement of giving this brand to everybody."