The Massachusetts Bay Transportation Authority's Late Night Pilot Program has received an extension to continue testing until June 19, according to a Feb. 5 press release from the Massachusetts Department of Transportation.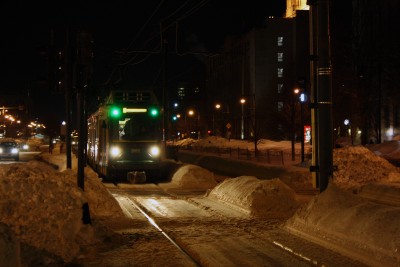 The program, which extends subway and Key Bus Routes by 90 minutes on Friday and Saturday nights, was put into place on March 28, 2014. However, MassDOT officials said they extended the period to collect more public input about the program before making a decision about the future of late-night service, the release stated.
"We owe the public all of the information we have and the chance to provide input on ways we could keep or modify late-night service," said Stephanie Pollack, MassDOT secretary and CEO, in the release. "I am committed to using both hard data and public input as we establish spending priorities for the T."
The decision regarding the continuation of late-night service will rest on both public input solicited from MBTA users and data collected during late-night operations, the release stated.
"I am pleased that we were able to extend our weekend service hours through this pilot program," Beverly Scott, MBTA General Manager and MassDOT Rail and Transit Administrator, who announced her resignation Wednesday and will remain in this position until April 11, said in the release. "Now we can take a hard look at the data collected over the course of the pilot, and take the time needed to chart out the next best steps. Continuing the pilot program through June gives us ample time to make decisions about the future of Late Night service."
Sambuddha Ghosh, an assistant professor of economics at Boston University's College of Arts and Sciences, said there are both pros and cons to the late-night service.
"A lot of restaurants, like pubs and so would benefit from this," he said. "People who want to eat out late at night Fridays and Saturdays will find it easier to do so. This is going to help the restaurants and the restaurant business and all of these late-night things. It would generally have beneficial effects."
The exception would be the cost, he said.
"The negative side would be of course this would increase the expense of the MBTA, and it'll put more stress on their infrastructure," Ghosh said. "If that were the case, I would even consider charging slightly higher fares for the late-night service. Not an exorbitant amount, but maybe just a little bit more."
The MBTA data collected shows that Late Night service has supplied over 1.1 million rides since its March rollout. MassDOT will continue collecting opinions and data on the service, with the public comment period ending on March 11, before making its official decision about the future of the program on April 15 at a MassDOT board meeting, the release stated.
Several residents said providing people with a late-night public transportation option is paramount, but others said the cost may be too much.
Jill Maher, 45, of South Boston, said late-night T service isn't essential due to the various other forms of transportation available at that time of night.
"If it's too expensive, I think it would be better to cut it. There are other modes of transportation for people to use at that hour," she said. "Given the deficit that Massachusetts is facing, I would think those funds could be better allocated."
Drew Dodakian, 20, of Fenway, said he was not aware that the program was temporary, and he hopes it remains in place.
"I've used it all the time, almost every weekend. I thought it was a permanent thing. I didn't know they might cut it," he said. "If they do, I guess I'd just use Uber, which I do anyways, but it's more expensive. If it's not making money for the city then it's probably not worth it, but I hope they don't cut it."
Andrew Abrahams, 21, of Fenway, said providing public, late-night transportation is a responsibility of the City of Boston.
"It probably gets used a lot by people who have to be out working late. I mean, the T's not that reliable anyway but it's better than nothing," he said. "If they cut it then there won't be a way for people to get around at night, and there should be since we're in a city. I wouldn't cut it just because it's the city's job to make the service available, even if it means spending some money."