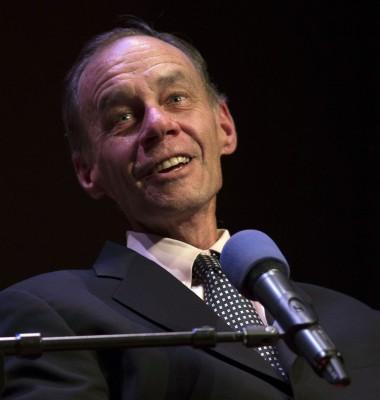 David Carr, a columnist at The New York Times who covered business, culture and government in his Media Equation column and a professor in Boston University's College of Communication, died Thursday at St. Luke's-Roosevelt Hospital Center in New York, The Times reported. He was 58.
Carr collapsed in The Times newsroom and was found around 9 p.m., The Times reported. On Thursday evening, he hosted a TimesTalk and interviewed Edward Snowden via satellite, along with Glenn Greenwald and Laura Poitras, about their documentary "Citizenfour," which was nominated for an Academy Award.
"He was the finest media reporter of his generation, a remarkable and funny man who was one of the leaders of our newsroom. He was our biggest champion, and his unending passion for journalism and for truth will be missed by this family at The Times, by his readers around the world and by people who love journalism," said Dean Baquet, the executive editor of The Times, in an email to colleagues.
Carr attended the University of Minnesota, where he majored in journalism and psychology. He was editor and media columnist at the weekly The Twin Cities Reader in Minneapolis from 1993 to 1995. From 1995 to 2000, Carr served as editor of the weekly Washington City Paper in Washington, D.C.
Before working at The Times, Carr contributed to The Atlantic Monthly and New York Magazine. In 2002, he wrote about media for Inside.com, a website about the business of entertainment and publishing, The Times reported.
Carr began writing for The Times in 2002 as a business reporter, focusing on the magazine publishing industry, and he began writing his Media Equation column in September 2006. His last column, published Wednesday, focused on the overlaps between Jon Stewart's retirement and Brian Williams' "public and humbling disenfranchisement."
In August 2008, Carr published a memoir, "The Night of the Gun," which told the story of his drug addiction and recovery. In a chapter of the book called "Me and My Girls," he wrote about transforming himself to raise his twin daughters.
Carr joined the journalism staff at BU in January 2014, The Daily Free Press reported. As the first Andrew R. Lack Professor, Carr was the "perfect candidate" for the position, said Thomas Fiedler, dean of COM.
"Several of us were at a lunch that Mr. Lack hosted, tossing about the names of people who might fit the vision of the Lack Professorship, that is, a person with a unique ability to understand and explain the changes, good and bad, that were occurring in the communication fields as a result of emerging communication technologies," Fiedler said in an email. "Although his work has been cut terribly short, he already has had a profound impact on all of us."
Chris Daly, a journalism professor in COM, said he chaired the search committee to choose the first person for the Lack Professorship. Carr told Daly that he decided to come to BU because he'd be able to concentrate his efforts on one academic program and he looked forward to working with the other faculty members.
"He was a person who had been through so much in his life that he had no pretense about him. He was without fear, and he had a sense of urgency — almost as he felt that time was short," Daly said in an email. "He was really focused on becoming the best teacher he could be. He had a strong commitment to his students. He knew them by name, and he showed a parental concern for each of them. He was a giver, and there are so few of those."
Daly said Carr spoke to him on the phone last weekend and told him he had pneumonia, and that he was worried he would not make it to his Monday afternoon class.
"These are things that a lot of famous people don't worry about, but David was all bent out of shape over the thought that he might have to let our students down," Daly said.
During the fall 2014 semester, Carr taught his first class at BU called Press Play, which focused on creating and distributing content in a digital age.
Mikaela LeFrak, a teaching assistant for Carr's first class, said he was one of the kindest, strangest and best people she will ever have the chance to meet.
"'I want you to sweat it out. Think of something no one else has ever thought of to get you there. Writing is an act of invention.' David Carr told our class that last fall, and it's never left my mind," LeFrak, a graduate student in COM, said in a Facebook message. "Every time he wrote, he invented something new and weird and beautiful."
Carr's spring 2015 class, called Just a Minute, had only been held once due to snow cancelations. It focuses on media criticism, and included 17 undergraduate and graduate students.
Sonia Su, a senior in COM enrolled in Carr's class, said Carr was a passionate professor who cared about his students.
"Even from day one, he said that he really valued our growth as students. He was just amazing, and we're all in shock," she said. "It's not about where we are now. It's about how we grow as journalists. That showed how much he cared, and I'm going to miss him a lot."
Su said Carr was a role model to young journalists like herself.
"People should remember him as this incredible writer and journalist who went through some tough times in life, but in the end, he turned out to be an amazing role model for journalists," she said. "We all look up to him, and we're never going to forget what he left behind."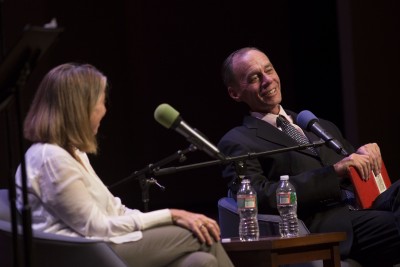 William McKeen, the chair of the journalism department at BU, said he felt as though he was "hit in the gut" when he heard about Carr's death.
"David was a rock star. Most of the journalists I know worshipped each Monday at the altar of his Media Equation column in the Times," he said in an email. "He'd been here a short time, but already, he had made an impact on our program. He loved teaching, and the students loved him. I'm thinking about the next 20 years or so. We assumed he'd be here with us."
McKeen said when he was diagnosed with cancer, Carr, who also battled cancer, reached out to him, provided him with support and "spoke with the authority of a cancer survivor."
Mitchell Zuckoff, a journalism professor in COM, said his colleague was incredibly talented and will be missed.
"David was the rarest creature in our craft: a brilliant reporter, a lyrical writer and a gifted teacher. Yet he was incredibly modest," he said in an email. "We were having coffee recently, and he kept talking about how much more he needed to learn about teaching. At the same time, the students we shared were constantly raving to me about his class."
Carr often prioritized interacting with BU students and faculty, finding opportunities to engage the journalism community, such as making an appearance on campus in October to speak about the future of media with former Times executive editor Jill Abramson.
"The thing that has been stunning to me is the level of seriousness that my students are bringing to the work that they have," Carr said in his conversation with Abramson. "There's a lot to worry about in the world, maybe some of it alright, but I think worrying about this next generation is a waste of time. I think they've got it going on."
Carr leaves his wife, Jill Rooney Carr, and three daughters, twins Erin and Meagan and BU freshman Maddie along with siblings Jim, John Jr., Joe, Missy and Lisa.
Lexie David, Felicia Gans, Samantha Gross and Paige Smith contributed to the reporting of this story.