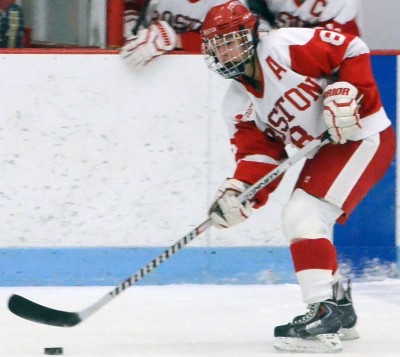 Days after a stunning victory against Northeastern University in the Beanpot consolation game, the No. 7 Boston University women's hockey team will take part in a weekend home-and-home series against Providence College.
While Monday's game was not necessarily an ideal spot for the Terriers (19-7-2, 13-4 Hockey East) to be in, they prevailed due to the strong performances of senior captain Marie-Phillip Poulin, junior forward Kayla Tutino and sophomore goaltender Victoria Hanson. Poulin opened the scoring for the Terriers just 2:38 into the first period, giving them the lead early in the game. With 21 seconds left in the first period, it was BU who struck again with a goal from Tutino on a redirect from junior forward Sarah Lefort. Hanson made a total of 31 saves after three periods, allowing only one Northeastern (9-15-4, 8-8-1 Hockey East) goal in the middle frame.
"I think any time you can get a little bit of a streak going, it certainly energizes the team and gives them some confidence," said BU coach Brian Durocher. "Northeastern played very well that day, but I think our team was ready to go and very disciplined in the way they played. Hopefully we got a bit of enthusiasm and confidence going forward."
With only four games remaining in the regular season, the Terriers will look to keep their momentum going, starting with this weekend against Providence (6-19-4, 5-11-1 Hockey East).
"The most visible and tangible thing in front of us is this whole PairWise that decides getting into the NCAA tournament," Durocher said. "That's one of those end of the year goals and we've earned our way in a couple of times. The last two wins against UNH and against Northeastern were important and so will the next two. If you look down the road, there are going to be some tough battles out there, and we've got to make sure that we play our best in what's sitting in front of us."
The Friars have had a difficult 2014-15 season overall. It took until Nov. 14, 2014 for the team to earn its first win. Recently, Providence has lost four of its last five contests, and has struggled with offensive dominance. Thus far, Providence has put up 1.8 goals per game, while allowing opponents an average of 3.3 tallies per contest.
Senior co-captain Beth Hanrahan has a team-leading thirteen goals this season, followed by classmate Haley Frade, who has eight. Goaltender Allie Morse has started in 24 of the team's games this season and has a save percentage of .902.
"We talk about respecting your opponent all the time, and without a doubt, we have to do that against Providence," Durocher said. "They're one of those teams that has great tradition. While they're down a little bit this year, there are enough juniors and seniors on that team who have been to the tournament before."
History is on the Terriers' side, as their last contest against Providence ended in a 3-1 victory for BU at Walter Brown Arena Wednesday night. Senior defenseman Shannon Doyle broke the 1-1 tie in the second period, and senior defenseman Shannon Stoneburgh and Poulin added their own tallies to give the Terriers the win. Freshman goaltender Erin O'Neil made 15 saves and assisted on Poulin's empty-netter late into the third period.
"They're a team that plays high-risk hockey and that means they're always pressing," Durocher said. "I'm sure they'll be doing the same come this weekend, and we've got to be ready for that. We've got to make sure that we're ready to go and ready to battle."