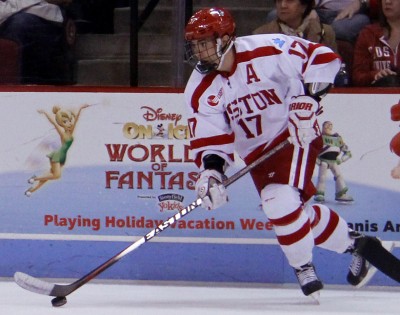 Things went from bad to worse for the No. 2/3 Boston University men's hockey team pretty quickly. After the Terriers allowed the University of New Hampshire to go up 3-0 halfway through the third period at the Whittemore Center on Saturday, head coach David Quinn called a timeout, and pulled junior goaltender Matt O'Connor in favor of freshman goalie Connor LaCouvee.
But LaCouvee and BU (19-5-4, 13-3-2 Hockey East) couldn't keep another one out of the net, just 34 seconds after the backup netminder entered the game. And just like that, the Terriers were faced with their biggest deficit of the season.
As Quinn put it himself: "That didn't really work."
Well, pretty soon after that, things almost worked for the Terriers — who have become somewhat renowned for their third-period comebacks.
Early in the third period, junior captain Matt Grzelcyk scored a pair of goals within 14 seconds of each other. Senior assistant captain Evan Rodrigues added one of his own six-and-a-half minutes later.
And after giving up the immediate goal, LaCouvee played 28:25 of shutout hockey and recorded 13 saves, turning away a number of close opportunities from UNH (11-17-2, 6-11-1 Hockey East).
Ultimately, the Terriers fell short for a final score of 4-3. But BU made one thing clear: It doesn't want to quit, no matter the size of the deficit. After all, they've come back 10 times this season after facing a deficit in the third period for a win or tie.
"We've never given up all year long," Rodrigues said. "I think the goalie was making a few good saves and we knew that If we got one, that more would come.
"I think that's what happened, we just knew that we had to stick to the game plan and things would turn our way. Just too little, too late."
With his third-period goal and an assist on Grzelcyk's second goal, Rodrigues now has a total of 21 third-period points (eight goals, 13 assists). Eight of his 13 goals this season have come in the third period.
Quinn made it clear that that the team's goal was not so much centered around overcoming the four-goal deficit, but instead it was simply about putting forth a stronger effort.
"One of the things we talked about was hey, I don't know if we can come back, let's just play better," Quinn said. "Let's play better. Let's feel good getting on the bus. At least we put forth a consistent effort for 20 minutes."
Though BU couldn't get a final goal across, with the three closing-frame tallies, BU is now outscoring opponents 54-17 in the third period this season.
What's the trick?
"I can't tell you that," Quinn said, among laughter. "There is a secret formula that we continue to use, we've bottled it and we can't reveal it.
"I have no idea. I wish I could tell you. I have no idea."