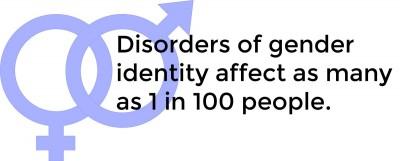 Researchers from the Boston University School of Medicine published a review concluding that there is a biological basis for transgender identity, according to a Friday press release.
The review, published in the journal Endocrine Practice on Feb. 9, contests the notion that transgender people choose what gender they prefer. Evidence that gender has a biological basis may improve health care, including surgery and hormone treatment, for transgender patients, the release stated.
Joshua Safer, the lead researcher and a professor at BUSM, said doctors are often overwhelmed when dealing with transgender patients. Medical practitioners often prefer to direct such patients toward psychological counseling, he said.
"It is still the case that the largest barrier for transgender [individuals] getting medical care is the lack of access to physicians who are knowledgeable and comfortable providing that care," he said. "What's concerning these providers is a sense that [treating them] is too complicated, and that they think this is a mental health concern."
Gender identity disorders affect as many as 1 in 100 people, the release stated.
A second-year BUSM student who also worked on the study, said the most difficult part of the study is the current nature of the field.
"There is not enough research being done currently on the health of gender identity minorities, including those who identify as transgender, and hopefully we can see this change in the future," he wrote in an email.
Safer said this conclusion could alter the way physicians work with transgender patients or patients that are born with a gender they do not align with.
"If you realize that gender identity, to a large extent, is a biologic phenomenon, then you aren't going to say, 'Oh you should just deal with it,'" he said. "You're going to want to know what is the most logical intervention based on success."
The BUSM research team for this review will head to Washington, D.C. in May to attend a conference at the National Institutes of Health to present their findings and request funding for further research, Safer said. Members of the NIH are hoping to develop a national database of transgender people to see what trends appear from different types of intervention.
"They want to know what kind of things we could be learning over the next five or ten years depending on how much money is available for research, and the purpose of this conference is to set that strategy and create some priorities for NIH," he said.
Several BU students said they were not surprised by the review's findings and agreed that being transgender is more biological rather than psychological.
"More power to them," said Annabel Kupke, a sophomore in the Sargent College of Health and Rehabilitation Sciences. "I do think there's a biological basis to being transgender. I don't think it's a choice. It's nice to see that people have backed that up."
Emily Lawson, a senior in the College of Arts and Sciences, hopes this research reaches people who are not so familiar with transgender identity.
"I would hope that this makes an impact on those outside of the [LGBTQ] community," she said. "They are the people that need to be aware of this kind of thing, not the people inside the community."
CORRECTION: A previous version of this story misquoted Joshua Safer in his first quote. The story has been corrected to reflect this change.
CORRECTION: A piece of identifying information has been removed at the request of the interviewee.