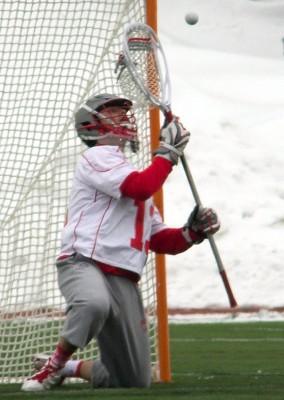 At the heart of the Boston University men's lacrosse team's strong start to the season has been a balanced and diverse stream of offensive output, starting with sophomore midfielder Sam Talkow's fine play at the faceoff X to win possession for the Terriers' (2-0).
In BU's 18-6 win over Mercer University on Feb. 7, Talkow won his team possession 18 times in 23 attempts. Then, in Saturday's 13-9 victory over Canisius College, the Delray Beach, Florida native beat his Golden Griffin (0-1) counterpart 14 of 26 times.
BU coach Ryan Polley said Talkow's quick hands and aggressive style have allowed the Terriers to jump out on opponents and gain momentum.
"Sam is one of the better athletes at the faceoff position in the country," he said. "He works very hard at not only having quick hands and being good on the draw, but also being a good ground ball player and helping us get possession that way. He's a threat once you get the ball in his stick, and he can create transition [play] for us."
Talkow boasts a .653 face-off percentage, but he also has tallied three goals from his FOGO, or face-off-get-off, position. Polley said this speaks volumes to the type of player Talkow is.
"One of the things we look at is momentum and how we can string goals together," he said. "Every single game, we want to have at least one run of scoring three goals in a row, and Sam gives us the potential to win the draw and go down and score again. It's huge for what we want to do, and he's definitely a weapon for us."
Carson-Banister Shines Between the Pipes
While the Terriers have scored an impressive 31 goals throughout their first two games, sophomore goalkeeper Christian Carson-Banister has been a steady and sure presence at the other end of the field.
The Dallas native was named the team MVP for 2014. Against Mercer (0-2), Carson-Banister saved 10 of the 15 shots that came his way, and he stood tall on 13 of the Golden Griffins' attempts Saturday.
The number of saves Carson-Banister has recorded stands out, but Polley said the timing of them has been just as important as Carson-Banister uses his quick-reflexes and size to his advantage.
"I'm happy that so far this year, he's had two really solid games, and because of that, we have been able to get these runs going," Polley said. "If you look at the [Canisius game], where we score five goals in the third quarter, we're going to talk about the offense. It was really Christian who made two doorstop saves though and allowed us to keep our run going. He's always been a great ball-stopper, so I'm very happy that he's keeping that part of his game up."
Although it is early in the season, Carson-Banister boasts a 7.29 goals against average, .622 save percentage and has made 23 saves. Polley said the experience that Carson-Banister gained in the 2014 season has helped his progression.
"For Christian, getting his feet wet and playing in those big games and facing the highest level of shooters went a really long way for him in terms of gaining confidence and understanding he can play at the highest of levels and be very effective," Polley said.
Freshman Attack Duo Make Their Mark
While many freshmen need a year of seasoning to adjust to a new system or add on muscle, the freshman attack duo of Jack Wilson and Ryan Hilburn have wasted no time in adjusting to the rigors and speed of the collegiate game.
Immediately thrust into the starting lineup and given the keys to BU's offense, Wilson and Hilburn lead the Terriers in several offensive categories. They are tied for the team lead in points with nine, due to Wilson's team-leading 7 goals and Hilburn's team-leading 7 assists.
Polley said the youthful duo have an innate understanding of the game, but also possess enough skill and physical talents to contribute for BU right off the bat.
"We were hopeful that Ryan and Jack could step in and play at a high level, but you never know with freshmen," he said. "They've stepped in seamlessly and given us a ball-handling presence down [at attack] that we lacked a little bit last year. Not only are they scoring and putting up big numbers, but they are getting ground balls and doing a lot of the little things."
Although Wilson and Hilburn's respective impressive starts to the season could simmer down in the coming weeks, Polley said the best is yet to come for the duo.
"They have a lot of work ahead of them, are two of our hardest workers and are two of the guys who love lacrosse the most," he said. "We expect them to continue to work hard and continue to get better and help our offense be as efficient as we need it to be. We are going to ask those guys to continue to get better every day, stick within our game plan, execute when we need them to and be unselfish. Both are up for the challenge."