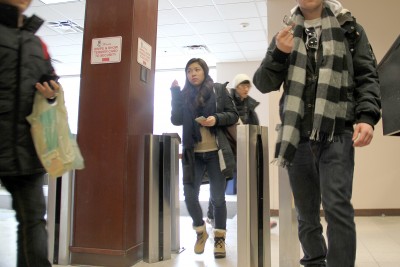 All Boston University dormitory-style residences will remain open during the Thanksgiving and spring breaks beginning in the 2015-16 academic year, BU Housing Director Nishmin Kashyap announced Feb. 12 in an email to the student body.
"This significant change in vacation housing policy is designed to address the needs of the students who find it impossible to travel home during break period and for those students who have commitments in the Boston area," Kashyap said in the email. "It also provides greater flexibility in making travel arrangements to return to campus at the end of these break periods."
Dining services for brunch and dinner will be available in one residence dining facility during Thanksgiving break, Kashyap said in the email. The Union Court in the George Sherman Union will have extended hours during the spring break.
"We constantly review the Housing needs of our students and the services we provide," said BU spokesman Colin Riley. "They [dorm residences] were closed to allow staff and employees time to spend with their families when the vast majority of students traveled home for Thanksgiving or left for spring recess."
The policy change is permanent, Riley said, and there will be no charge for staying on campus during the Thanksgiving or spring breaks.
Shawna Altenburger, the assistant director of Residence Life for South Campus, said one reason the policy was changed was because more students have been opting to use vacation housing to stay on campus during vacations.
"That was a clear indicator that we needed to open the dorms," she said. "I also know that with a greater amount of international students every year, it can be very hard to get a flight out of the country, especially for fall recess. We're just adjusting to the needs of the students. Students are going to be very excited to have this option, and I think we can expect to see a lot of people staying in the dorms in the coming breaks."
Altenburger said residence assistants will be on campus during the vacation periods.
"We'll definitely have some RA staff staying, and we'll use a rotational on-call schedule like any other time," she said. "If students need an RA, there will always be one. They can ask for help from the on-call RA like usual."
Representatives from BU Dining Services and the Residence Hall Association declined to comment.
A BU Facilities Management and Planning plumber who asked to remain anonymous per employee regulations said although the change could benefit international students, it might put a strain on employees.
"I'm sure it'll be great for students who want to stay, but there's give and take for everyone on the issue," he said. "Whoever bit the bullet on this issue was thinking more about students than workers. Workers get a break too when they're scheduled off at Thanksgiving and spring break. If the dorms are open, that means some of us are going to have to be here too."
Several students said they're happy to hear about the policy change and see how it can be helpful.
Jay Ishimaru, a senior in the College of Engineering and an international student, said the vacation housing change will make staying on campus easier for international students.
"I'm really happy to hear they're finally changing that," he said. "I'm from Japan, so I could never go home during breaks. I actually moved off campus so I could stay in Boston during breaks. It can be really hard for international students to find somewhere to go, and not everyone can afford flights every break."
Carlos Diclear, a senior in ENG, said he sees the potential for overworking BU employees.
"I don't think it would be fair to make BU dining staff to stay during breaks and miss holidays and time with their families," he said. "As long as they kept the dorms open, they don't have to keep dining open. There's a lot of food in Boston, and it's not normal school time. Maybe if they increased their vacation pay, it would be ok, but otherwise, they should close the dining halls."
Angela Wang, a freshman in the College of General Studies, said she plans to take advantage of the future dorm accommodations.
"I'll probably stay in the dorms for those shorter breaks since I'm from California," she said. "It's just not worth it going all the way there and coming all the way back for just a few days, and it's really expensive. As long as it's not a lot extra to stay in the dorms, it's a really good plan."