Boston Mayor Martin Walsh announced a new data-sharing affiliation on Friday with Waze, an app owned by Google that allows those driving, cycling and walking in Boston to view real-time traffic conditions.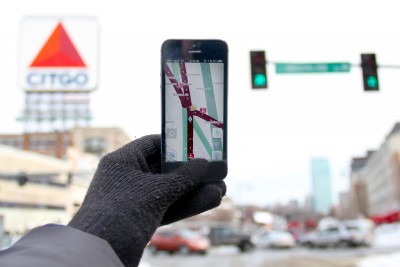 Referred to broadly as the Connected Citizens program, the partnership will help improve traffic flow in Boston, according to a Friday release from the City of Boston.
"It's an opportunity for us to share information on expected road closures with all of the Waze users. In the Boston area, they have nearly half a million users, so it's a great mechanism for us to provide real-time information to them," said Gina Fiandaca, commissioner of the Boston Transportation Department. "We can share traffic reports through Waze users that we see in our traffic management center."
The affiliation does not only benefit Waze users, she said. By sharing collected information with the Traffic Management Center, the City traffic engineers will, in theory, benefit from the alliance by adjusting the city's hundreds of intersections.
"We have 550 signalized intersections that we can control remotely in our traffic management center. Now, we're able to make those changes in response to traffic conditions that we note real-time," Fiandaca said. "That information can be pushed out to Waze, and they can make it available for their users."
Walsh's Citywide Analytics Team, announced in the mayor's State of the City address Jan. 13, works with city departments to improve services through information gained from data, the release stated, and the team supports the partnership with Waze.
Paige Fitzgerald, manager of the Connected Citizens program, said in an email statement that Waze looks forward to this partnership for diminishing traffic jams and allowing reported incident data to go straight to officials who can deal with such occurrences.
"The City of Boston has been at the forefront of innovation in government, and we are honored to work with them to leverage Waze data to reduce congestion and improve Boston's transportation infrastructure," Fitzgerald said. "Through this partnership, Waze users will be better able to avoid congestion by accessing the most up-to-date traffic information directly from the city. Also, Waze-reported incident data will also now go directly into the hands of officials who can address the reported incidents, whether they be a five car pile-up, a broken down vehicle or a pothole."
Although the partnership has plans to improve current traffic conditions, Julian Agyeman, a professor of urban and environmental policy and planning at Tufts University, said this coalition is a short-term fix to a long-term problem.
"We have a traffic problem in Boston that has been cruelly exposed in the last few weeks by the diminished capacity due to snow and snow banks. We have a real problem," he said. "The data is going to be shared with the Traffic Management Center. What 'traffic management' is about is managing the amount of traffic we currently have in the city. If we were a real smart city and if we were a real world-class city, we would have a Traffic Reduction Center."
Agyeman said traffic reduction would be a better fix than that of traffic management, the system on which Boston is currently running under. He said especially with the recent weather taking a toll on the city, traffic reduction would be a better fix than a short-term fix — an app to help people get around.
"I challenge Mayor Walsh to get really smart and to live up to Boston's aspirations to be a world-class city by renaming the Traffic Reduction Center and start looking at ways to reduce the amount of traffic coming into Boston," Agyeman said. "That's what a truly world-class city does, and that's the only way to introduce long-term thinking to Boston's traffic problems that are only going to get worse. Let's be proactive on this rather than reactive."
Several residents said the app could start to solve some traffic problems, but there's still more to be done.
Adhi Fahadayna, 23, of Brighton, said while the app may be useful for viewing traffic conditions, it can't fix them.
"You know, sometimes weather is unpredictable," he said. "The apps could help get around it."
Jared Bancroft, 30, of Brighton, said he has the app and uses it frequently.
"We drive back and forth from New York a lot. It's just good for finding ways around some of the traffic. It's not that much different from Google maps and things like that. I've liked it when I've used it. You can keep your passenger entertained because they can update things like when there's a tire in the road," he said. "It's cool the City of Boston is partnering with them. It will get more data into [the app] and help you avoid traffic getting home."
Michael Steffany, 30, of the North End, said the app might help avoid traffic in a city as busy as Boston.
"[Boston] is already a really congested city," he said. "I know people have been having three-hour commutes when it's usually a half hour. I think [the partnership] would definitely be helpful. I wonder how Boston would be able to deliver it to the residents."