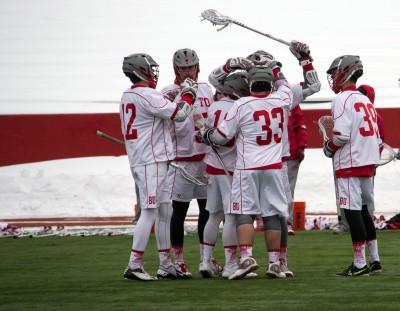 The Boston University men's lacrosse team will travel down to Bethlehem, Pennsylvania Saturday afternoon to take on a No. 19 Lehigh University side in Patriot League play.
Going into the contest, the Terriers (2-0) will be full of confidence after starting the season with commanding wins over Mercer University and Canisius College. The team has already met its win total from last season and will be looking to build off its performances against a strong Lehigh (1-1) squad.
"We are in a good place," said BU coach Ryan Polley. "We are gaining confidence, but at the same time are only as good as our next game. We are a young team that is learning how to win, how to deal with success and are trying to get better each and every day through every practice and game."
While the young BU team is surging and has already overcome numerous obstacles in the early portions of its season, it will encounter an entirely different one on Saturday at the Ulrich Sports Complex. Insofar, both of the Terriers' games have been in Boston, so handling the rigors of travel and an unfamiliar environment will pose a new challenge.
In light of this, the Terriers finished last season with a 2-4 road record, so there is reason to believe that BU is capable of getting the job done away from home. Polley said he is confident in his team's ability to handle its first road test.
"We will deal with the travel [because] we talk about it in terms of carrying out our process and preparation," he said. "It's certainly a little bit different than playing at home, but a lot of these guys are used to getting on a bus to play somewhere else. The biggest challenge still will be the goal across the midline from us."
Playing away from home is a challenge within itself, but Lehigh's hot-and-cold start to the year should help BU's cause. The Mountain Hawks, who were picked to finish third in the Patriot League's preseason poll, lost 10-9 at home to No. 17 Marquette University in their first game of the year on Feb. 7, then defeated Furman University 14-11 Saturday in their first away contest.
In the midst of the Mountain Hawks' up-and-down start has been the strong play of one extremely dangerous offensive weapon in senior Dan Taylor. Despite playing in only two games, the attack has 15 points on the season on eight goals and seven assists.
Taylor was named the Patriot League Offensive Player of the Week on Monday, leads the Patriot League in points per game and is the focal point of Lehigh's explosive offense.
"Our game plan is going to be geared towards containing Dan Taylor," Polley said. "Lehigh goes offensively as he goes, which is a great thing for them because he is a tremendous player. Taylor may be a top-five player in the country, so we certainly have our work cut out for us with containing him. We want to make him work for every single thing he does and not give up any easy goals."
In addition to Taylor, Lehigh also boasts the Patriot League Preseason Defensive Player of the Year in goalkeeper Matt Poillon. The senior shot-stopper boasts a 7.25 goals against average and .589 save percentage across his collegiate career.
While the two-time Patriot League Goalie of the Year may be allowing 10.5 goals a game in Lehigh's young season, Polley said getting by Poillon will be a challenge.
"It seems like he has been there forever because I remember back when he was a hot-shot freshman," he said. "He has continued to get better every season, is a really tough kid, is a great athlete, makes a lot of acrobatic saves, steals some goals every game and makes the saves that he should. It is going to be challenging to go up against their defense, and then if you break that you have to get the ball past Poillon."
A final element at play on Saturday is the fact that both BU and Lehigh are playing in their first Patriot League contest. While out-of-conference games are crucial and can serve as a measuring stick, an in-conference win in the offering adds fuel to the fire.
BU finished last season 2-6 in Patriot League play and will surely be looking to improve on that standing. In order to do that, Polley said his team is going to employ a measured approach against Lehigh, all while being aware of the added importance.
"The guys are well aware of the conference nature, and we don't want to minimize it or overstate it," he said. "It's still only one game, and win or lose, we still have seven games left in the conference. We want to keep making one play at a time, be one-play warriors and go from there. We will recognize how the game is going, refocus and continue to put our series of plays together."