Entering Friday's matchup against the University of Notre Dame at Agganis Arena, the No. 2/3 Boston University men's hockey team knew it needed a win to secure at least a share of the Hockey East regular-season title. And until the final four minutes of the game, that seemed close to coming true.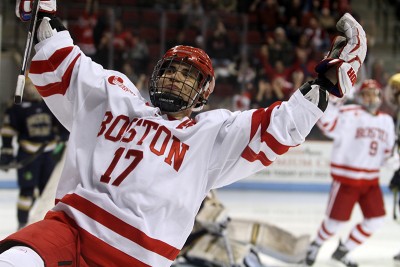 BU (19-5-5, 13-3-3 Hockey East) led Notre Dame (13-15-5, 8-6-5 Hockey East) by a score of 2-1 until there was 3:43 left, when Fighting Irish freshman Anders Bjork had a wrister from the slot to tie the game at two goals apiece. The game ended in a 2-2 tie when neither team could score in overtime.
But by way of No. 10/11 Boston College's tie against the No. 16 University of Massachusetts Lowell on Friday, the tie was plenty. With its own tie, BU clinched at least a share of the regular-season Hockey East title and a first-round bye in the Hockey East Tournament.
With a win on Saturday, the Terriers would solely claim the Hockey East title — a stunning turnaround from their ninth-place finish in the conference a year ago.
"We talked about the opportunity we had tonight to, if we won, at least share the league title," said BU head coach David Quinn. "We tied and we end up sharing it anyway. But you've gotta embrace that opportunity. And I thought we did, I really liked our game."
The Terriers had a 2-1 shot-on-goal advantage in overtime, but Senior assistant captain Evan Rodrigues broke away from Fighting Irish defensemen with 15 seconds remaining in the game in an attempt to give BU the lead. He chipped it to fellow senior assistant captain Cason Hohmann, who sent a shot right into the glove of Notre Dame goaltender Cal Petersen.
BU took a timeout with 8.8 seconds remaining, with a faceoff in front of the Irish net awaiting. The puck ended up in the corner out of the draw, and BU couldn't muster a last-second win.
"We get frustrated when you tie, but that's a good team," Quinn said. "There's no easy games in this league, and we certainly knew tonight wasn't going to be an easy one."
Notre Dame (13-15-5, 8-6-5 Hockey East) scored the first goal of the matchup, with forward Jake Evans wristing a shot past BU junior goaltender Matt O'Connor's glove side at the 4:41 mark of the second period.
Sophomore forward Nick Roberto followed with a goal of his own about five minutes later off a rebound. The tying goal was Roberto's third of the year, and his first goal in 13 contests.
"Nick did a good job going to the net off that initial rush by [freshman forward] Jack [Eichel]," Quinn said. "Jack got that puck to the net and [freshman defenseman Brandon] Fortunato had a whack at it, and then Nick ended up banging home the rebound."
Rodrigues broke the 1-1 tie 31 seconds into the third period with a rebound goal off of junior forward Danny O'Regan's initial shot. The tally marked his 14th goal of the season, tying Rodrigues' career high. Junior captain Matt Grzelcyk notched an assist on the play, marking his third consecutive game with a point.
O'Connor had 17 saves in the contest. Petersen had 34 stops, including the crucial stop against Hohmann in the waning seconds of overtime.
For the Terriers, the game and share of the conference title proved a positive milestone in the campaign. But Quinn knows things won't get any easier from here.
"It's a tough league," Quinn said. "Every game here on in certainly will have a playoff feel to it, and that one certainly did."