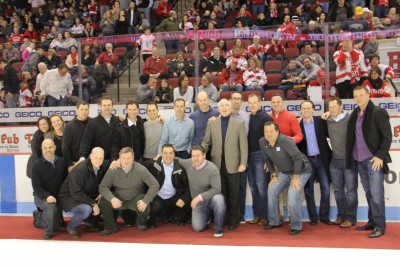 While a Beanpot title game and playoff aspirations loom on the horizon for the No. 2/3 Boston University men's hockey team, it still took time out to reflect on its past Friday night at Agganis Arena.
During the first intermission of the Terriers' contest against the University of Notre Dame, BU (19-5-5, 13-3-3 Hockey East) welcomed back members of the 1994-95 Terriers squad that claimed the program's fourth NCAA title 20 years ago.
More than 15 former players — including captain Jacques Joubert, NCAA Tournament Most Outstanding Player Chris O'Sullivan and forward Shawn Bates — were given a standing ovation near BU's bench — capped off with a video tribute orchestrated to the tune of Beastie Boys' "Sabotage."
The ceremony also honored former assistant coaches Mike Eruzione and Bill Berglund, as well as former head coach Jack Parker. Parker — who captured three national championships during his 40 years as coach of the Terriers — addressed the crowd on the ice after the ceremony.
"I remember when we won that championship like it was yesterday," Parker said. "What had happened, they interviewed me after the game, on the ice, and they asked me what I thought and I said, 'The greatest part about this is 20 years from now or 25 years from now, we're all going to get together and we're all going to get so much fun remembering the time we won the National Championship together.'
"It was a great time and this group of guys were great players and they were great guys and great teammates to each other. Again, congratulations for being who you are, thank you very much for letting me be your coach. I thank you all."
The pristine conditions of Agganis Arena might have served as a departure from the vintage feel of the Terriers' old home at Walter Brown Arena, but Joubert still noted his appreciation towards BU for organizing the event.
"Just getting the guys back together and having everybody here has been really a fun night," Joubert said. "Just so happy to see everybody and happy they put this together. It's been great."
After falling to the underdog Lake Superior State University by a score of 9-1 in the 1994 NCAA title game, the 1994-95 Terriers entered the following season with a renewed commitment towards securing the program's first title in 17 years.
Led by a strong senior corps of Joubert and forward Steve Thornton and an underclassmen grouping of O'Sullivan, Bates, sophomore wing Mike Grier and freshman forward Chris Drury, the Terriers stormed their way to a 31-6-3 record — winning the Beanpot and the Hockey East championship in the process.
Facing off against the University of Maine in the NCAA title game, the Terriers light the lamp in every period, including three in the final stanza, to earn a 6-2 win over the Black Bears.
Many factors play into a team's run to a championship, but for Joubert, the biggest key to BU's success in 1994-95 was a direct result of the team's commitment to success.
"I think the biggest difference at the end of the day, and it doesn't matter if its college hockey or the Patriots in the Super Bowl or the Red Sox — it comes down to the group of people in the locker room working for one common goal," Joubert said. "There's no question, the team that BU had in the mid-90s, they had a ton of talent, and they won one title.
"It's not easy to do. I've said it before, being in big games, winning some of them, losing some, it all builds character and we were all in that year for one goal, and that was to win it all."
The current incarnation of the Terriers might boast a few younger players than the 1994-95 team, but Joubert also acknowledged that both teams showcase similar a similar trait in terms of an abundance of talent situated across the roster.
"They're fun to watch," Joubert noted. "They've got great skill and it goes beyond [freshman center] Jack Eichel. He gets all the kind of wrap and he's a great player, don't get me wrong, but there's a big supporting cast that are really talented players.
Joubert continued: "People like to joke that Chris Drury was on the team, but he was a fourth-line guy. That was more of a reflection of him being a freshman and a 17-year-old than anything. I would just say the depth of talent on that team, relative to our team, is probably the biggest similarity."
There are no guarantees once playoff hockey kicks off in March, but Joubert stated that he has high hopes for this year's Terrier squad going into the postseason.
"I think they've proven, wow, these guys can play and they can play with anybody," Joubert said. "They can come back late in games, they can blow teams out, they can win in any fashion. I think the expectations are building.
"This team has proven this year for sure, they can beat anybody, so I'm looking forward to seeing how they do in the stretch run."