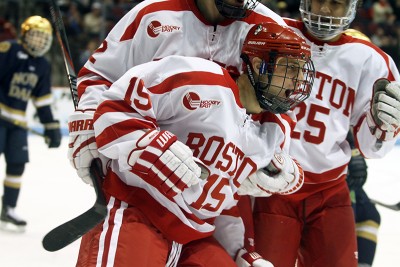 Amid all of the dekes, dangles and one-timers that have led to goals this season for the No. 2/3 Boston University men's hockey team, sophomore forward Nick Roberto's second-period strike Friday against the University of Notre Dame served as a rather pedestrian outlier.
With a little over 9:30 eclipsed on the clock in the second, freshman center Jack Eichel skated into the Irish's (13-15-5, 8-6-5 Hockey East) zone and uncorked the puck towards Notre Dame goaltender Cal Petersen.
Petersen appeared to corral the puck at first, but it eluded his grasp, falling to the ice and sliding towards a lurking Roberto in the crease. The Wakefield native pounced, firing the vulcanized disc past the Fighting Irish netminder to knot the score at 1-1 at 9:46 in the middle stanza.
It might not have been the flashiest display of goal scoring, but Roberto's third goal of the season proved to be vital, helping the Terriers (19-5-5, 13-3-3 Hockey East) secure at least a share of the Hockey East regular-season title after playing to a 2-2 draw against Notre Dame Friday at Agganis Arena.
"That's how you gotta get goals," said BU coach David Quinn. "I know we all like to score pretty ones but that's how it's gotta happen. We didn't get enough of it done tonight, but part of that had to do with the way Notre Dame defended. … I'm happy for Nick because I thought he had a good night tonight."
Roberto's tally was his first in over two months — his last coming on Dec. 13 against Rensselaer Polytechnic Institute — as well as his first time lighting the lamp at home thus season.
"Definitely a great feeling, especially at home — get the crowd into it," Roberto said. "Got to give credit to Jack, bringing the puck hard to the net and the puck just squirted and I was able to get it over the goalie's glove."
After seeing extended time amongst the top-six forward corps last year, an influx of new players and returning veterans have relegated Roberto down to the third and four lines in 2014-15. Despite the drop in time on the ice, Roberto has still played a hand in generating scoring depth for the Terriers, notching nine points in 29 games this season.
Playing on a fourth-line grouping with junior forward Mike Moran and freshman forward Chase Phelps Friday night, Roberto and his linemates combined for six shots and were active on the forecheck throughout the night.
"I thought they played well and we're going to need all our lines to get going," Quinn said. "They did a good job tonight."
Clinching at least a share of the Hockey East regular-season title is a noteworthy accomplishment for any team — especially for one that finished ninth in the conference standings last year. However, Roberto noted that it was tough to see the team leave points on the board by way of the draw.
"It was tough that we tied," Roberto said. "We really wanted to get the win — get it over with. …. Moving forward, we don't have to worry about too much going into tomorrow's game. Just another two points on the line."
Distractions are a common occurrence during the grueling stretch of a hockey season, and the Terriers will have plenty of that going forward. A win Saturday against Notre Dame would give BU the outright conference regular-season title, but a Beanpot championship showdown against Northeastern University on Monday looms right around the corner.
Just don't mention any Beanpot talk to Roberto. A rematch against BU's foe from South Bend takes top billing for now.
"Notre Dame is a good team," Roberto said. "I know they're like fourth or fifth in the league right now. You can't take them easy. Last year, they played us tough at their place, so it's good to play them hard here.
"Going into the weekend, we weren't really taking about Monday. We want to win our regular-season championship for Hockey East right now and then focus on Monday."