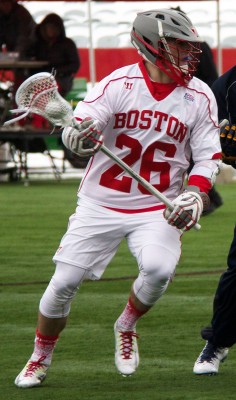 Facing its first ranked opponent of the 2015 campaign Saturday afternoon, the Boston University men's lacrosse team battled back from a four-goal deficit, but ultimately fell to No. 19 Lehigh University, 10-9, in Bethlehem, Pennsylvania.
Down 6-2 at halftime, the Terriers (2-1, 0-1 Patriot League) fought to tie the game with less than five minutes remaining, but the Mountain Hawks (2-1, 1-0 Patriot League) converted on a late chance to squeak out the conference victory.
"I'm obviously disappointed with the outcome, but I'm proud of our guys and how they battled back and never gave up and showed great resilience to come back and tie the game up," said BU coach Ryan Polley. "Lehigh at the end just made one more play than us."
Lehigh got on the scoreboard first after BU was called for an unsportsmanlike conduct penalty, and attack Reid Weber scored on the man-advantage just over four minutes into the game.
BU looked to have scored after sophomore midfielder Cal Dearth connected with freshman attack Jack Wilson at the 9:44 mark, but Wilson's shot hit the outside netting of the goal. The Terriers would find the equalizer soon after though, as freshman attack Ryan Hilburn converted on a close-range attempt on a man-advantage opportunity with 8:57 left in the quarter.
On Lehigh's next possession, sophomore midfielder Jake Dansey nearly put BU ahead after he forced a turnover in front of the BU goal, carried the ball the length of the field and fired a shot that flew just wide.
It would be the Mountain Hawks that earned the game's next goal when goalkeeper Matt Poillon stopped a Hilburn shot and senior Patrick Corbett converted on the other end to put Lehigh up 2-1.
The Terriers continued to fight back against their more experienced opponent. With just over four minutes left in the first quarter, sophomore attack Adam Schaal picked up a loose ball in Lehigh's defensive end and threw it to Dearth, who scored from close-range to knot things up again.
The tie would not last for long, as the Mountain Hawks took advantage of a poor clear attempt from the Terriers and scored with 2:31 remaining in the quarter off the stick of Weber to put Lehigh up 3-2.
As was the case Feb. 14 against Canisius College, sophomore faceoff specialist Sam Talkow struggled in the opening frame, failing to win the ball for the Terriers on each of the game's first five faceoff opportunities. Polley said the sluggish play of Talkow and the Terriers in the first quarter was due to a poor week of practice.
"He [Talkow] didn't have a great week, as our team didn't," he said. "That was evident in our slow start … Lehigh had a great plan. They were very focused on trying to take Sam away."
The Mountain Hawks continued to surge in the second quarter as they scored three unanswered goals, all from Corbett, to take a 6-2 lead into halftime. Corbett and senior Dan Taylor dominated the stats sheet for the Mountain Hawks, combining for 10 points on the day.
"The two of them are a really tough tandem," Polley said. "They made some really good plays and showed senior leadership and had really good games."
After using the halftime period to regroup, the Terriers showcased their strengths with a strong third-quarter performance.
"We kinda just took a deep breath at halftime and regrouped and said 'Hey, we just need to execute,'" Polley said. "We got back to our fundamentals a little bit and got back to what we wanted to do, which was make some more simpler plays and making easier plays, and that led to some good looks. It was just all about execution."
Redshirt sophomore attack Sam Tenney got things started for the Terriers as he scored his fifth goal of the season on a man-up chance less than a minute into the frame.
Weber struck again for the Mountain Hawks at the 11:13 mark, but the Terriers were quick to answer back as Hilburn put a shot past Poillon 11 seconds later.
The Terriers continued their hot streak with 7:49 left in the quarter when Dearth scooped up a ground ball and fed it to freshman midfielder Hayden Ruiz, who cut the Lehigh lead to 7-5.
In the quarter's closing seconds, sophomore long-stick midfielder Greg Wozniak picked up a ground ball near midfield, stormed through the Mountain Hawk defense and scored for the second time in as many games before the buzzer to bring the score to 7-6.
"We want to score four transition goals a game and certainly having Greg making plays in the middle of the field and him being as dynamic as he is certainly helps us," Polley said. "We want to keep looking for that transition, put a lot of pressure on the defense and continue to be an up-tempo team."
As he did against the Golden Griffins (0-2), Talkow was able to turn things around at the faceoff X as the game wore on. He decisively won the third-quarter faceoff battle, which Polley said was a major factor in BU's comeback.
As snow began to accumulate onto the field surface, Lehigh did some regrouping of its own to start the fourth and scored two goals less than a minute apart to go up by three with 9:40 left in regulation.
The Terriers would not be denied though, and scored three straight goals, including two from Bethlehem native freshman midfielder Greg Farris, to tie things up with 4:54 remaining.
Talkow won the ensuing faceoff, and the Terriers looked poised to complete the comeback, but shots from Dearth, Ruiz and sophomore midfielder Craig Zebrowski failed to make it past Poillon, and Lehigh called a timeout with 3:25 remaining.
Coming off the timeout, the Mountain Hawks forced a turnover from Hilburn, and Wilson was called for an ill-advised pushing penalty, giving Lehigh 30 seconds to take advantage of the man-up opportunity in which Taylor connected with Corbett for the third time, putting Lehigh on top for good, 10-9.
BU had one more offensive possession to try and send things to extra time, but Poillon stopped a strong try from Ruiz with under a minute remaining to seal the conference victory for the Mountain Hawks.
With his young team moving deeper into its 2015 season, Polley said that in addition to becoming more consistent in practice, the Terriers must focus on playing four solid quarters of lacrosse.
"As we play these harder, more experienced teams, it's definitely going to be a challenge," he said. "We're going to have to play better for longer stretches if we want to come out on the right side of the scoreboard. We're close but also as much as we are more experienced than we were yesterday. We're still playing a ton of freshmen and guys are getting used to playing at a higher level and playing against greater competition. It's hard to do that for 60 minutes. That's our goal, and that's what we're going to strive for, but it's certainly challenging."