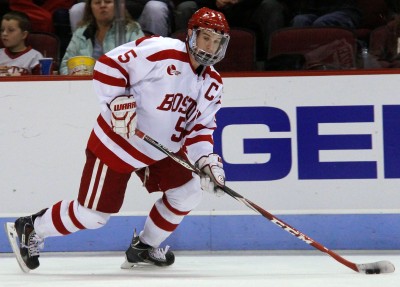 Junior captain Matt Grzelcyk of the No. 2/3 Boston University men's hockey doesn't want to look to the past.
A disappointing loss to the University of Notre Dame Saturday is a distant memory, and the prospect of playing three games in four nights doesn't even cross the defenseman's thought process at this point.
The only thing on Grzelcyk's mind is the task at hand — securing BU's first Beanpot championship in six years.
Grzelcyk and the Terriers (19-6-5, 13-4-3 Hockey East) will attempt to do just that Monday night at TD Garden, facing off against Northeastern University with the coveted trophy and citywide bragging rights on the line.
"I think it speaks for itself," Grzelcyk said. "Obviously, it's been a while since we've been in this game. It's something that's been in the back of my mind for a while, and I think all the guys are really excited for it."
BU has maintained its standing as one of the teams to beat in Hockey East throughout the season, but has run into a rut as of late.
After posting a record of 10-1-3 since the start of December, the Terriers have found themselves winless in their last three contests, capped off by the aforementioned 3-2 loss at the hands of the Fighting Irish (14-15-5, 9-6-5 Hockey East) Saturday night at Agganis Arena.
Despite the Terriers' recent struggles, BU head coach David Quinn said he remains confident in his players going into the title game. For BU's bench boss, a few missed chances over the weekend does not offset the success that his team has built over the course of the season.
"We feel really good as a staff for how we played," Quinn said. "To be quite honest with you, I don't know if I've felt this good about our team in awhile, and yet we haven't won in three games … We just weren't as opportunistic as we have been all year, and that's going to happen. There's an awful lot to like about some of the things that we're doing right now."
A win against the Huskies (15-12-4, 10-8-2 Hockey East) Monday night would serve as a refreshing rebound win for the Terriers in more ways than one, but head coach Jim Madigan's squad should not be taken lightly.
Northeastern is one of the hottest teams in the nation and has gone 14-3-3 since starting the season 1-9-1. It was in the midst of a nine-game unbeaten streak prior to losing to the University of Maine on Saturday, outscoring opponents 42-17 during that stretch.
The Huskies have a number of prolific scorers, including the third-leading scorer in Hockey East, forward Kevin Roy (16 goals, 23 assists). Roy has had multiple points in six of his last eight games, with 16 points in that span, including a four-goal game against the University of Connecticut on Feb. 13.
Forward Dalen Hedges (eight goals, 23 assists) has scored seven points in his last four games. Sophomore John Stevens (three goals, 13 assists) is also on a hot streak, having registered points in his last six contests, with eight points in that span.
The Terriers will also face a former teammate, forward Brendan Collier, who transferred to Northeastern after playing one year at BU. He has two goals and six assists for the Huskies this year.
Senior Clay Witt has seen the majority of time in net for Northeastern this season, posting a 2.60 goals-against average and .910 save percentage.
Northeastern also boasts the league's second-best power-play unit — 21.2 percent, behind BU's conference-best 24.3 percent. That could prove dangerous for the Terriers' struggling penalty kill, which has had a success rate of just 72.3 percent in the past 11 games.
"They're certainly playing with a lot of confidence," Quinn said. "They're getting great goaltending, they're balanced up front and they play at a pace and they play an offensive brand of hockey, so we're going to have to defend the way we did this weekend … Northeastern will certainly be a great test for us."
Hoisting the Beanpot trophy on the TD Garden would be a special moment for Grzelcyk — who grew in nearby Charlestown and is well versed in the history of the tournament — but BU's captain also acknowledged that the team has a unifying goal set for Monday.
For Grzelcyk, sending BU's exiting class of senior forwards Evan Rodrigues and Cason Hohmann, as well as graduate student goaltender Anthony Moccia, out on a high note in their final Beanpot takes top priority.
"It would mean the world, especially after having such a tough year last year and not being able to help the team out in the Beanpot and going through the season-ending injury," Grzelcyk said. "I think all the guys just really want to win for the seniors too. They've been through a lot here, and we've had a great year so far, so I think we're definitely the more deserving team."
Quinn echoed Grzelcyk's sentiments, and said Rodrigues, Hohmann and Moccia have an opportunity to accomplish what BU's previous two senior classes failed to do — raise yet another Beanpot marker up to the Agganis Arena rafters.
"When you come here to BU, you expect to win Beanpots," Quinn said. "I'm just happy for them that we're in this situation where we're playing for the championship. It's been a long time coming, not only throughout their career but over the last month waiting for this game to happen, so it's going to be a lot of fun."