It had been a while since Robbie Baillargeon got a goal. Since Oct. 10, 2014 to be exact. But he chose a good time to get back on the score sheet.
The sophomore center scored his second goal of the year in a crucial moment for the No. 4 Boston University men's hockey team en route to the team's victory over Northeastern University in the Beanpot Championship on Monday.
His Monday goal, off a rebound from an initial shot from senior assistant captain Cason Hohmann, came at the 5:31 mark of the second period to break a 1-1 tie, a pivotal moment in the Terriers' eventual 4-3 overtime win. It was Baillargeon's first goal for BU (20-6-5, 13-4-3 Hockey East) since the team's season opener against the University of Massachusetts Amherst.
The goal marked Baillargeon's second point of the Beanpot Tournament, as he recorded an assist against No. 15/16 Harvard University in the Feb. 3 Beanpot semifinal matchup.
"It was really special for him, obviously," said BU head coach David Quinn following Monday's game. "It means an awful lot to our team. We're going to need Robbie to play to his abilities. I thought he had a good night tonight."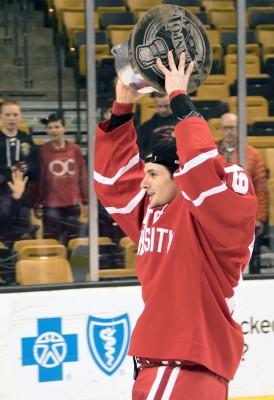 Baillargeon missed extended time earlier in the 2014-15 season with mononucleosis, sitting out nine straight games between Nov. 14, 2014 and Dec. 13, 2014 with the illness. After scoring the first goal of the regular season for BU, he recorded just one point — an assist — in his next six games before being sidelined.
"It's been a tough year for him, getting mono and probably playing with mono before he actually got diagnosed," Quinn said. "It's been a long, long year for him."
His absence had one bright side: It gave BU an opportunity to discover some of its younger depth on its squad, which includes five freshman forwards.
"We were able to have some success when he wasn't in the lineup, gave an opportunity to some players to kind of prove themselves, and it kind of let us know that we had some depth," Quinn said.
Despite his scoring woes, Baillargeon has shown productivity as of late. Entering the Beanpot final, he had eight assists in his previous eight games, including a three-assist night against the University of New Hampshire on Feb. 13. Since returning to the lineup on Jan. 3, he has recorded a total of 11 points.
Baillargeon led the Terriers in scoring in the 2013-14 season (27 points) and was selected to the Hockey East All-Rookie team as a result. Though he has mustered less than half that total (13 points) in the 2014-15 campaign with just two regular-season games remaining, his team felt his contribution in the Beanpot — one of the many valuable Terrier performances during the two-game tournament.
"It was good to see him play the way he did tonight and capitalize on his opportunity," Quinn said.